Book your child's birthday party a Blakesley Hall and enjoy exclusive use of our barn in the Hall's grounds for groups of 10 to 30 children.
We will provide outdoor games, a children's trail and a party meal. You are invited to bring your own additional games and entertainment, and a birthday cake.
Enjoy the space for two hours and if the weather is good, you can take the garden games outside!
We'll greet you at reception and show you to your private room, we'll also bring your food and squash to you. Running the party games, and any entertainment you want to arrange is up to you, this is not a supervised party package.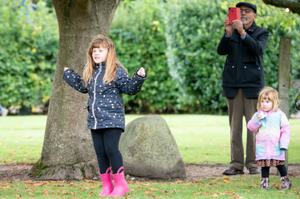 What's included?
Exclusive use of the barn for your party for two hours
Access to Blakesley Hall's grounds (non-exclusive)
A children's trail for every child
Use of our garden games
Party meal in a box
Unlimited squash
Although staff will be onsite to answer any questions you may have, they are not responsible for your party, nor will they be in the barn with you. Running the party games, and any entertainment you bring is up to you - you are entirely responsible for your party.
For more information see our Frequently Asked Questions.
Prices
Just £7.50 per child.
Parents of children attending the party are welcome to join the group and stay on site for the duration of the party, but the maximum number of guests including parents and children is 45.
Our parties are available from Thursday to Saturday at either 10.30am or 1.30pm.
Optional Extras
We are able to offer goody bags at an additional charge of £1.90 per child. Goody bags contain Blakesley Hall themed stationery items. Please let us know at the time of booking if you would like these.
To Book
To book a party please call 0121 348 8263 or download and complete the booking form (Word) and email it to groups@birminghammuseums.org.uk
Terms and Conditions apply.