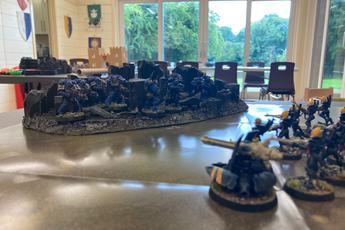 Kids Warhammer Club
Weoley Castle
Free, drop in table-top gamming club
First Saturday of every month and Tuesdays in Birmingham School Holidays
Drop-in
About Kids Warhammer Club
First Saturday of every month and Tuesdays in Birmingham School Holidays. See full list of dates below.
There will be spaces for painting, modelling and gaming. Bring your own models along, hang out and paint/play with fellow Warhammer enthusiasts. On site we will have a select range of paints and brushes for you to use. If you do bring any of your own, make sure to put your name on your model/paint/brush etc.
We welcome any format of playing, be it 40K, Age of Sigmar, Underworlds, Warcry, Kill Team or Horus Heresy, come play and enjoy on the site of a ruined Medieval Castle!
We aim to be friendly and inclusive to all. So, if this is your first foray into tabletop gaming or haven't played much before, we will have some models to test painting and will run simple games to help you get to speed with the rules. We have played many of the games listed here, but if we don't know the rules to the game you hope to play, then we will learn alongside you and support your play.
Event Information
Aimed at children and young people aged 12-18 years old but children 8+ may attend with an adult if appropriate. Not suitable for very young children.
The club is led by a qualified Learning Officer who is DBS checked and undergoes regular safeguarding training.
Children aged 12+ may attend unaccompanied by an adult. A contact form must be completed by an adult during your first visit.
There is no cafe on site, you are welcome to bring food and drink.
Our Warhammer Club is part of the Warhammer Alliance.