Weoley Castle offers the opportunity to study the ruins and environs of a 750 year old moated medieval manor house in a safe outdoors environment.
This page contains comprehensive information for teachers bringing pupils on a visit to Weoley Castle, it includes pre-visit and on the day information.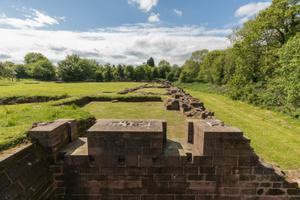 Pre-Visit Information
Address
Weoley Castle
Alwold Road
Weoley Castle
Birmingham
B29 5RX
Contact / Book a Visit
All visits require advanced booking - this includes self-guided visits, teacher previews and taught sessions.
For enquiries or to make a booking contact the Education Bookings Team on 0121 348 8001 or email educationbookings@birminghammuseums.org.uk
Risk Assessments
Download the schools risk assessment below.
Teacher Previews

If you are a first time visitor to Weoley Castle it is recommended that a member of your teaching staff attends a pre-visit. The ruins can be viewed from the viewing platform which is open every day.
Facilitated Sessions
Our facilitated sessions take place within the historic environment of Weoley Castle and are interactive and hands-on. They have been developed by an experienced museum Learning Officer and are linked to the National Curriculum. Sessions include active learning opportunities and are designed to appeal to all learning abilities and styles.
Home Educators

All of our taught sessions are available for home education groups. We can adapt the content of the taught sessions to fit with mixed age groups, abilities and needs. A minimum charge may apply.
Disabled Access
The site is mainly grass but is largely on the flat (other than access to the moat). Accessible toilet facilities are available.
Pupil / Teacher Ratio
For Foundation and Key Stage 1 groups a minimum of 1 adult to every 6 children is required.
For Key Stage 2 and over a minimum of 1 adult for every 10 children is required.
A failure to meet these ratios may result in your session being cancelled upon arrival.
On the Day Information
Arrival
School groups should arrive 15 minutes before the start of their first taught session. This will allow for pupils to disembark from the coach, drop off lunch bags and visit the toilets.
Late arrival may result in your taught sessions being shortened. Sessions cannot be carried over due to other groups and activities around the site.
Coach Drop Off and Parking
Coaches can drop pupils off on Alwold Road. There is no dedicated coach parking.
Schools Entrance
Please enter via the main entrance.
Classroom
Our classroom space is large enough for a taught session with table dinner space at one end.
Lunch Area
Lunch by picnic in the grounds or in the classroom, depending on the weather.
Cloakroom
Teachers and pupils may leave their belongings in the classroom, which is a secure space, but it is recommended to keep high value items on you at all times.
Toilets
Accessible toilet facilities are available onsite.
Museum Shop
There is no shop or café at Weoley Castle.
Pupil Behaviour
It is the responsibility of the class teachers and accompanying adults to control the behaviour of pupils
Pupils are expected to show respect, listen to museum staff and follow instructions
A health and safety briefing will be given as part of your visit
Photography
Photography is permitted.