One of the most elegant buildings in Birmingham, Soho House was the home of the industrialist and entrepreneur Matthew Boulton from 1766 to 1809.

Today, it stands as a beautifully restored monument that reflects the fashions and tastes of the late Georgian period.
Originally set in more than 100 acres of land, it started life as a small farm house before Boulton altered and improved it over a 50 year period. It is believed to be the first home in England to have a central heating system installed since Roman times, as well as a vast steam-heated bath and indoor flushing toilets.
Soho House became a favourite meeting place of the Lunar Society. This group of free thinking scientists and industrialists included Joseph Priestley, Erasmus Darwin, Josiah Wedgwood, James Watt and William Withering. They would meet every month on the night of the full moon to dine, conduct experiments and discuss philosophical matters.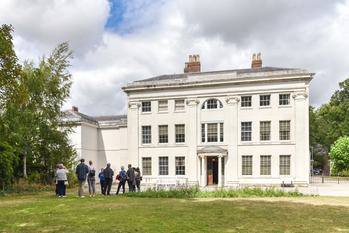 Soho House in the 21st Century
As a unique museum with fascinating displays, you'll see some of the products made in Boulton's nearby Soho Manufactory including buttons and buckles, clocks and vases, silver and Sheffield plate tableware. Most famously, it was in this factory where he developed the steam engine in partnership with his business partner Watt.
While little is left of the original 100-acre grounds, the 18th Century gardens still provide visitors a peaceful escape from the hustle and bustle of the city. Here you'll find The Hermitage, a reconstruction of the place where Boulton would retreat for quiet contemplation.