The fascinating ruins of Weoley Castle date back more than 750 years and reveal the remains of a fortified manor house originally built as a hunting lodge by the Lords of Dudley. Set in the heart of what was once a thousand acre deer park, the grounds extended almost as far as the city centre.
It has long been referred to as a castle – it had a moat, curtain wall, towers, battlements and arrow slits – however, it never had a keep or the defensive position required as it was located in a valley. During the Middle Ages, those who lived nearby would have paid the Lords of Dudley a tithe, or percentage, of their crops as rent for their land; and a regular court was held in the Great Hall to settle disputes between neighbours and punish poachers.
The ruins seen today are believed to date back as far as 1270, making it one of the oldest buildings still visible in Birmingham. As such it was classified as a scheduled Ancient Monument of National Importance in 1934 and a series of archaeological digs in the 1930s and 1950s uncovered a rich collection of historic treasures.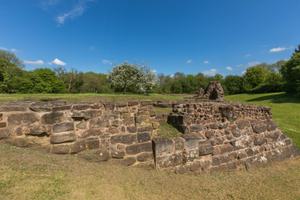 A unique look back at history
While the private rooms that served the lords and ladies of the manor no longer stand, a free to access viewing platform allows visitors to use their imagination and picture what life would have been like seven centuries ago.
Weoley Castle continues to hosts a full programme of family activities and events all year round, while direct access to the ruins and visitor centre is available on specific event days.