Take a step back in time and discover what life was like for a wealthy family during the Tudor time, when Elizabeth I was on the throne and Shakespeare was writing plays.
Blakesley Hall is one of Birmingham's oldest and most historically significant buildings, situated just a few miles from the centre of Birmingham.
This beautiful house was built over 430 years ago in 1590 by Richard Smalbroke, a member of one of Birmingham's leading merchant families.
The house is furnished using an inventory taken in the 17th century and reflects the lifestyle of a wealthy family of the late Tudor and Stuart period of English history.
During your visit, you will see many original features of this building, including the painted chamber whose secrets were hidden until WWII bomb damage revealed the original painted walls from 1590. Take a wander through the atmospheric Great Parlour, the Great Hall and the Long Gallery, which is an unusual feature in this type of house.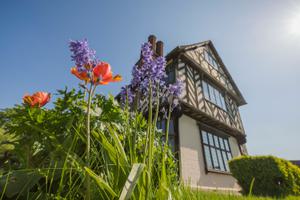 Space for tranquillity
Escape the hustle and bustle with a stroll through Blakesley's beautiful gardens and grounds. The herb garden is part of the Silent Space scheme, which promotes peaceful time in green spaces and provides a place for reflection, tranquillity and wellbeing.
These surroundings have become a haven for butterflies, birds and other wildlife and here you can walk amongst the fruit trees, picnic in the grounds or pop in for a cuppa at Herb Garden Café. Or you can simply do what so many visitors do and settle down on one of our garden benches and soak up the atmosphere of this magnificent place.