Ask anyone in the city what Birmingham is famous for and jewellery-making will be at the top of the list. With a world-wide reputation for the highest quality precious metals and gemstones, the region has for centuries been the go-to place for those looking for the very best treasures.
The Museum of the Jewellery Quarter captures the vital role the industry has played as it shines a spotlight on a perfectly preserved workshop and offers a glimpse of working life in Birmingham's renowned Jewellery Quarter.
When the proprietors of the Smith & Pepper jewellery manufacturing firm retired in 1981 they simply ceased trading and locked the door, unaware they would be leaving a time capsule for future generations. Today, it stands as a remarkable museum, telling the story of the region's unique heritage.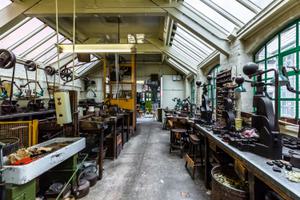 City's rich treasures
A tour through the workshop uncovers a vast array of original tools, stamps and machinery that remain intact. There are also two self-led galleries: The Story of the Jewellery Quarter, tracing the history and development of the area; and Earth's Riches, showcasing jewellery made from natural materials from across the world.

Closed
The Museum of the Jewellery Quarter is currently closed except for special events, please see the What's On page for details. We will provide re-opening and guided tour information via our website and social media channels.