Walk in the footsteps of one of the most famous authors of all time and discover the inspiration behind the Hobbit and Lord of the Rings trilogy.
JRR Tolkien grew up across the road from Sarehole Mill and spent many hours exploring the grounds as a child; in later life he would draw on its rural surroundings to create Middle-earth.

There has been a mill on this site since 1542, and the current building dates from the mid-18th century. In the 1850s a steam engine was installed and the chimney – which provides its distinctive silhouette – was built.
There are also connections with another Birmingham son. Matthew Boulton, manufacturer and business partner of engineer James Watt, leased the building between 1756 and 1761 and used it as a 'flatting mill' to producing sheet metal to make buttons.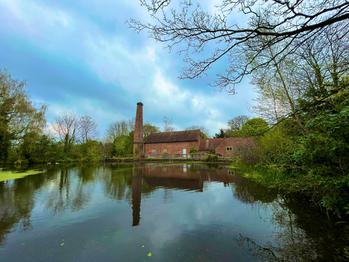 Sarehole Mill Today
The mill has two waterwheels, one of which was still in use until recently to grind wheat. Sadly it is currently out of action due to flood damage in 2018 and work is underway to restore it to its former glory. However, we now offer a modern-day bakery serving handmade treats and pizza in the courtyard.
And make sure you make time to explore our Woodland Realm, a small area of forest next to the Mill Pond and home to enchanting creations by local sculptor Graham Jones. Everything is crafted out of sustainably sourced local timber or recycled materials, supporting our commitment to sustainability.