The Herb Garden Café is the perfect place to stop for a light refreshment. While the gift shop sells a range of gifts and souvenirs relating to Blakesley Hall.
The café and shop are free to visit and are open during opening hours.
Herb Garden Café
Relax in Blakesley Hall's Herb Garden Café with a hot drink, a slice of cake and superb views of our beautiful Elizabethan house and peaceful garden.

We have indoor and outdoor seating, and even if you're not visiting the house you can still pay a visit to our café.
A takeaway service is also available.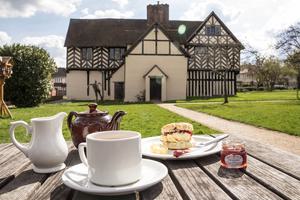 Menu
Coffee and Hot Drinks

Regular or large:


Cafe Americano £2.00/£2.20
Cappuccino £2.80/£3.00
Latte £2.80/£3.00
Flat White £3.00
Cafe Mocha £2.80/£3.20
Espresso £1.70/£1.80
Seasonal Special £2.80/£3.00
Iced Coffee £3.00
Hot Chocolate £2.80/£3.00
Babycino £1.40

Extras: shot of syrup / whipped cream / Marshmallows for 70p each.

Teas

English Breakfast £2.20
Earl Grey £2.20
Whole Leaf Herbal Tea £2.20
Cold drinks

We have a range of cold drinks.
Food

Slice of Cake £3.00
Slice of Tray Bake £2.80
Cookies £1.30
Cream Tea (scones, raspberry jam and Cornish clotted cream with a choice of tea or coffee) £6.00
Ice cream tubs £2.20
Chocolate £1.20
Crisps £1.20

We also have a range of freshly made sandwiches available.
---
Shop
Taking inspiration from our Elizabethan house and grounds you will find a superb range of gifts, great reads, historical souvenirs and tempting treats in the Blakesley Hall shop.
We also have an excellent range of affordable souvenirs aimed at schools and we offer a pre-ordered goody bag service.
Shop Online
We have an online shop where you can purchase a fantastic range of unique gifts and souvenirs and have them delivered straight to your door.
As well as getting a great gift, all shop purchases help to support Birmingham Museums Trust to continue to care for Birmingham's unique collection and the delivery of our award winning education programme.