Our Community Welcome Pass scheme could help you explore the city's museums for free.
The scheme is open to community groups, CICs, or small charities based in Birmingham, Solihull or Sandwell who work with groups who might not otherwise visit our museums.
As a Community Welcome Pass holder, you can bring group members to our sites as often as you'd like, for free, for a year.
If you've always wanted to visit Thinktank, Aston Hall, Blakesley Hall, the Museum Collections Centre or Sarehole Mill, and see your city's history, science, art and nature, then we'd love to hear from you.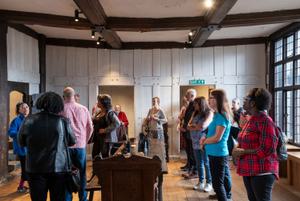 This scheme is a really wonderful idea and offered an experience the children would not have had a chance to have!

A Community Welcome Pass holder.
Criteria for membership
Open to groups based in Birmingham, Sandwell or Smethwick.
Local branches of national charities can apply, as long as they have an office in one of our target areas.
Groups must be either charities, CICs or community groups providing non-statutory activities to service users or participants.
Groups must be working to support marginalised, vulnerable, or excluded people in the city.
Individuals are not eligible to join the scheme.
Educational establishments, and groups funded by statutory organisations (e.g. BCC, NHS) are not eligible.
If you are unsure about your eligibility, please complete our online application form and we will contact you.
Benefits of joining the scheme
Up to three passholders per organisation
Free, pre-booked, visits to six Birmingham Museum sites for a year for your groups
Annual networking event for organisations and group leaders who are part of the scheme
10% discount in our shops and cafes for all group members during your visits
We hope to be able to offer more benefits as the scheme develops and as we gather feedback from members.
How to get involved
Eligible organisations can have up to three passholders as members of the scheme.
Each passholder must be able to attend a training session in order to join the scheme. Sessions are held twice a year, in the spring and autumn. Due to staff capacity, it is not possible at present to join the scheme outside these times.
To join the scheme, please fill out our application form (link to the form is below) and you will be added to the list for the next available training.

FAQs
When can we apply?

We run two rounds of training each year – spring and autumn. You are welcome to apply at any time, and will be added to the list for the next available training.

How many passholders can my organisation have?

At the moment, each organisation can apply for up to three named passholders. Passes are issued to individuals, not organisations, and cannot be transferred between staff.

How long does membership last?

Each pass is valid for a year, from the training date. Passholders are welcome to renew as many times as they would like.

Which sites or events can I use my Pass at?

At present, the pass can be used during normal opening hours at:

Aston Hall
Blakesley Hall
Sarehole Mill
Thinktank

It can be used on selected open days at the Museum Collection Centre which will be pre-booked in advance and offered first-come, first-served.

The Pass provides free pre-booked entry during normal visiting times, and cannot be used for entry to special events, except the Morning Explorers (quiet openings) at Thinktank.

How many people can I bring on a visit?

Each site has different capacity.

At present, a group of 30 people per passholder can visit Aston Hall, Blakesley Hall and Thinktank.

A group of 15 people per passholder can visit Sarehole Mill and the Museum Collection Centre.

The total number includes adults, children, and the Passholder/any accompanying staff.

Does the passholder have to attend with the group?

Yes, passholders must accompany their groups during the visit to any of our sites.

How do I book a visit?

Once you have attended a training day and received your Pass, you will be sent a link to a digital pack. This includes risk assessments, information packs for each site including accessibility and travel details, and a booking form. Bookings can only be made via this form at present.