The Museum Collection Centre is is the main store for Birmingham Museum Trust, holding over 80% of a collection of around a million items, many offering a real insight into life in Birmingham and the West Midlands over the centuries.
With only a small percentage of collections on display at Birmingham Museums, or on loan to other organisations, it is the only place to see collection items not normally on display.
A huge number of the objects are held on open storage in one very large warehouse which contains everything from aircraft engines to zoological specimens. Among the hundreds of thousands of objects stored here are steam engines, sculptures, cars, a giant spider crab, a retro chip fryer, and many more. Smaller objects, and objects that need more stable temperature and relative humidity, are stored in purpose-built spaces.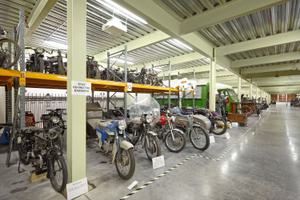 A place of work
The Museum Collection Centre is the main place of work for some of the staff who care for, research, or otherwise work with our collections, as well as the volunteers who support us in doing that. Our teams care for the collections in store – as well as those on display at our other sites – and work on improving the documentation of the collection.
Visiting the Museum Collection Centre
With its mix of fascinating finds and a behind-the-scenes atmosphere, this hidden gem is an intriguing place to explore. It is open to the public on Friday afternoons only from 12.30pm - 2.30pm for our Explore Afternoons. Pre-booking is essential, there are no spaces available on the day.

You can also visit us at our Open Days which run in April and another in September. The September Open Day runs as part of Birmingham Heritage Week and includes activities for children, themed tours, conservation demonstrations.