Use our Birmingham Museums' collection into your classroom every day!
Choose from over 200 museum boxes to inspire and enrich your lessons by handling authentic artefacts, some of which are over 3,000 years old.
The Museum in a Box service aims to ensure that students have the opportunity to engage with the museum's collections in a way that will stimulate, support and enrich their learning. The boxes provide a unique and rare opportunity to handle real artefacts and try on replica costumes.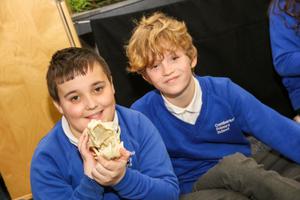 The service operates on a half term basis and are available to nurseries, schools, colleges, universities and community groups (with premises).
All of our loan boxes are cleaned and sealed before they are sent out. We have also provided a teacher's guide to help keep the objects and your students' safe but maintain the quality of your experience.

Summary of Boxes
Prehistory
Ancient Egypt
Ancient Greece
Ancient Rome
Anglo-Saxons
Vikings
Aztecs
Native America
Tudors
Victorians
First World War
Second World War
19th & 20th-Century Life
Music
World Cultures
Religion
Natural History
Art
Story Boxes
Our online catalogue gives more details and a full list of boxes.

Prices
Each loan box costs £55 + VAT per school per half term (unless stated otherwise) plus £45.50 + VAT delivery (our delivery service covers up to 25 miles from B7 4RQ. Loans are delivered to the premises and are collected at the end of the half term).
Combine a Loans Box and Online Session
We also offer the use of a loans box along with a facilitated online session featuring storytelling and interactive roleplay.
This unique opportunity brings the museum directly into your classroom with authentic handling artefacts and an online session with a member of our education team.
Let us whisk you away on a virtual gallery tour or transport you to the past with mummification, Roman soldier training and mythological monsters!
Our online session information can be found on our teaching sessions page.
How to Book a Box

For full details how to book a box, including loan periods, payment options and T&Cs, see our book a box page.