The Portable Antiquities Scheme (PAS) is a voluntary recording scheme for archaeological objects found by members of the public.
Every year thousands of objects are discovered, many by metal detector users, but also by people whilst out walking, gardening or going about their daily work. Such discoveries offer an important source for understanding our past.
The Treasure Act
All finders of gold and silver objects, and groups of coins from the same finds over 300 years old, have a legal obligation to report such items under the Treasure Act 1996. Now prehistoric base-metal assemblages found after 1 January 2003 also qualify as treasure. Your local Finds Liaison Officer is happy to help you deal with the paperwork and explain the treasure process to you.
Find out more about the Treasure Act on the Portable Antiquities Scheme website.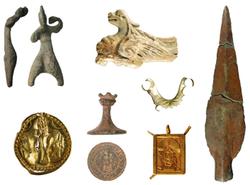 West Midlands Finds Liaison Officers (FLOs)
Victoria Allnatt, Senior Finds Liaison Officer – Worcestershire and Warwickshire (maternity cover)
Worcestershire County Museum, Hartlebury Castle, Kidderminster, DY11 7XZ
Phone: 07518 530904
Email: Victoria.Allnatt@birminghammuseums.org.uk
Twitter: @FLOMidlands
Instagram: FLOWestMids
Teresa Gilmore, Senior Finds Liaison Officer – Staffordshire and West Midlands
Museum Collection Centre, Birmingham Museums Trust, 25 Dollman St, Birmingham B7 4RQ
Phone: 07766 925351
Email: Teresa.Gilmore@birminghammuseums.org.uk
Twitter: @StaffsWMFLO
Facebook: Staffordshire Finds Liaison Officer
Clara De-Sousa Cunha, Finds Liaison Officer – Herefordshire and Shropshire
Ludlow Library and Museum Resource Centre, 7-9 Parkway, Ludlow, Shropshire, SY8 2PG
Phone: TBC
Email: Clara.DeSousaCunha@birminghammuseums.org.uk

For more information about the Portable Antiquities Scheme visit Finds.

Contribute to archaeological research via MicroPASTS
You can assist existing research projects with tasks that need human intelligence, such as the accurate location of artefact findspots or photographed scenes, the identification of subject matter in historic archives, the masking of photos meant for 3D modelling, or the transcription of letters and catalogues. Other tasks might require on-location contributions by members of the public, such as submitting your own photographs of particular archaeological sites or objects. By contributing to a MicroPasts project you will:
Have a direct impact on research in archaeology, history and heritage
Help with tasks that computers cannot do
Develop skills that interest you
Produce results that will be open and freely usable
Visit MicroPASTS.