Aston Hall has been named one of the most haunted buildings in the UK. It has many ghost stories to tell, some of which date back to the 17th century and the actions of the Hall's first resident, Sir Thomas Holte.
Whether you believe in ghosts or not, Aston Hall's tales of macabre murders, mysterious ladies and tragic events have been passed down over 400 years of history and still entertain people today.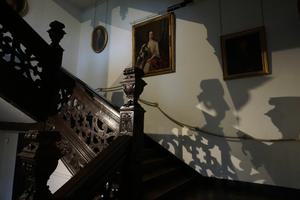 Rage, Theft and the Lady in Green
Sir Thomas Holte was a man to be feared and when you learn of his actions it will come as no surprise that Aston Hall plays host to a few ghost stories.
Hear about many of the Hall's ghostly characters such as Dick the young houseboy accused of stealing, the 'grey-ghost' of Sir Thomas Holte's daughter locked away for 16 years and the lady in green who keeps watch over the Hall.
For those that enjoy spooky stories keep an eye on our What's On page for dates of our regular ghost tours and fright nights.