We are pleased to be able to offer group visits to Aston Hall.
We can welcome groups of 10-100 for a wonderful self-guided visit from just £10 per person, or alternatively groups of 10-25 can book a guided tour from £13 per person.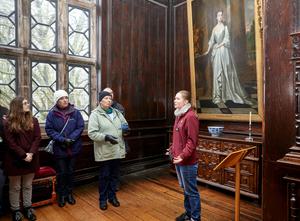 About Aston Hall
Aston Hall is a magnificent seventeenth century red-brick mansion situated in a picturesque public park on the north side of Birmingham.

Built between 1618 and 1635 for Sir Thomas Holte and home to James Watt Junior from 1817-1848, Aston Hall is steeped in history. Now a grade I listed building, the Hall is restored to its former Jacobean splendour. It boasts a series of period rooms including one of Britain's best long galleries and houses furniture, paintings and textiles from the collections of Birmingham Museums Trust.
During your visit, you can also enjoy exploring Lady Holte's Garden. The garden is the South Garden for Aston Hall and is surrounded by brick walls, which were ordered by Sir Thomas Holte in 1637. The garden is designed in symmetrical patterns with historic shrubs and foliage. The garden was designed to be beautiful and peaceful and also as a method of impressing guests who visited Aston Hall in the past.
Group visits
Visit only £10 per person.
Then add on the following as required:
A guided tour from £3 per person.
*Tea or coffee and biscuits £3.50 per person.
**Sandwiches (vegetarian/vegan/gluten free options available on request) includes tea or coffee, £11 per person. The whole group must have the same option.
A guide book £5 per person.
Guided tours of Aston Hall have a maximum capacity of 25 people for comfort and safety.
*The Stable Yard Café has a seating capacity of 35 people and is open from 11am-4pm.
**We must receive final food orders 10 working days prior to the date of the booking.

Group visits are available Wednesday to Sunday 12noon-4pm and must be pre-booked, terms and conditions apply.
Free coach parking is available on site.
Keeping everyone safe
What are our safety measures?

We want to make sure your visit is as safe and enjoyable as possible so some safety measures will continue:

We support staff and visitors who wish to wear a face covering.
Staff who test positive for COVID-19 isolate at home for at least 5 days until they have two successive negative tests.
We have hand sanitisers at the entrance and throughout the building.
Contactless card payments will limit personal interaction, but cash will also be accepted.
We have cleaners working throughout the day focusing on touch points and toilets to keep them safe and clean.

Please do not visit us if you are feeling unwell, have any symptoms of Covid-19 or have been in contact with anyone that has had the virus in the last 10 days. Please contact us if you have any further questions.