The traditional herb garden, orchard and grounds are a peaceful haven for visitors, and for butterflies and birds!
At Blakesley Hall we have created a herb garden similar to the one we think the Smalbroke family would have had in Tudor times. It is home to a wide variety of plant species, all with their own unique histories and uses.
The garden is maintained and looked after entirely by the Blakesley Hall garden volunteer team.
The gardens at Blakesley Hall are free to visit during site opening hours (see the Visit page for details).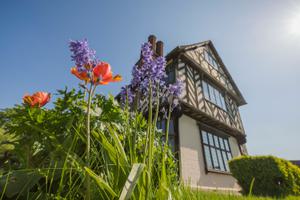 Silent Space
Blakesley Hall is now part of the Silent Space scheme which promotes peaceful time in green spaces. The scheme offers people the chance to share their appreciation of silent time in the natural world. Our beautiful Herb Garden is the location of our Silent Space and is the ideal place to spend some quiet time for reflection and wellbeing. It is the perfect space to sit on one of our garden benches for a moment of peaceful of tranquillity.
You might also like...