We are delighted to be able to welcome groups to Blakesley Hall for a guided tour and a delicious traditional cream tea.
We can accommodate groups of 10 - 30 guests for a wonderful visit for just £16 per person.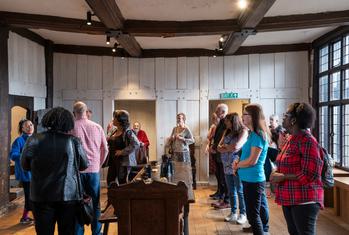 About Blakesley Hall

The Hall is a remarkable survival in an urban setting. This exquisite timber-framed house was built in 1590 by Richard Smalbroke, a member of one of Birmingham's leading merchant families.
More than 400 years later, beautiful Blakesley is still a haven; secluded from the avenues of modern houses that lie beyond its gates.
The Hall demonstrates how it was an attractive and comfortable home with impressive features such as the uneven Long Gallery, the lavish decorative framing and fine painted cloths. See the wattle and daub panels, climb the twisty old staircase and marvel at the elaborately carved wooden furniture. Discover the atmospheric Painted Chamber with its tester bed and 400 year old wall paintings.
The Hall is furnished using an inventory taken in the 17th century and reflects the lifestyle of a wealthy family of the late Tudor and Stuart period of English history.

Group Visit: Tour with cream tea
On arrival, your guide will deliver an introductory talk about the Hall and show you some of the Hall's fascinating objects and artefacts of historical importance.
Members of your group will then explore the Hall at their own leisure where your guide will be on hand to answer any questions and talk about the rooms, the contents and the history of the Hall.
Refreshments will be available after the tour where you can enjoy a cream tea in one of our spacious rooms.

Group visits are available from Wednesday to Friday.
Coach parking is available on site.
Price: £16 per person, min 10 people, max 30 people.
Terms and conditions apply.
Keeping everyone safe
What are our safety measures?

We want to make sure your visit is as safe and enjoyable as possible so some safety measures will continue:

We support staff and visitors who wish to wear a face covering.
Staff who test positive for COVID-19 isolate at home for at least 5 days until they have two successive negative tests.
We have hand sanitisers at the entrance and throughout the building.
Contactless card payments will limit personal interaction, but cash will also be accepted.
We have cleaners working throughout the day focusing on touch points and toilets to keep them safe and clean.

Please do not visit us if you are feeling unwell, have any symptoms of Covid-19 or have been in contact with anyone that has had the virus in the last 10 days. Please contact us if you have any further questions.