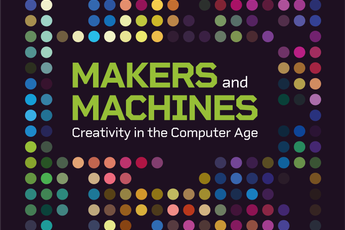 Makers and Machines
Thinktank
Creativity in the Computer Age
Now open (during opening hours)
About Makers and Machines
Our new exhibition explores the surprising long history of coding and tells the incredible stories of local people, past and present, who use coding in their work.
We look at how local weavers and knitter, mathematicians and scientists, and artists and gamers all use coding in their work. And we also explore the implications of new technology such as AI for human creativity. Can you find the three object labels that have been written by an AI chatbot rather than a human curator?
You'll also have the opportunity to see rare and important objects such as the HEC computer, one of the oldest surviving electronic computers in the world. There will be a range of digital and analogue devices on display, plus the chance to see some classic game designs, learn how punched cards worked, and design your own weaving pattern.
The exhibition is now open during Thinktank opening hours and is included the admission price.

The new exhibition space and Makers and Machines have been funded by Millennium Point Trust.

You might also like...
Aston Hall

Aston Arts Club

, at Aston Hall.

First Saturday of the month May - December

Join us for a free arts club and make something inspired by Aston Hall and its incredible history.

Weoley Castle

Kids Warhammer Club

, at Weoley Castle.

First Saturday of every month and Tuesdays in Birmingham School Holidays

Free, drop in table-top gamming club

Weoley Castle

Castle Kids Playgroup

, at Weoley Castle.

Every Tuesday from 7 Nov - 19 Dec

Castle Kids is a Stay & Play group for children aged 0 to 5 with their parents or carers.

Further content for Makers and Machines