Students will be able explore Blakesley Hall, a picture-perfect timber-framed Tudor house which is situated just a few miles from the centre of Birmingham.
On this page we have provided comprehensive information for teachers bringing students on a visit to Blakesley Hall, it includes pre-visit and on the day information.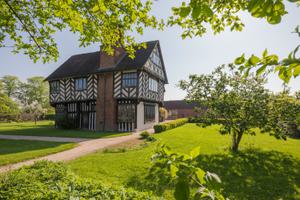 About Blakesley Hall
Blakesley Hall was built in 1590 for Richard Smalbroke, Birmingham merchant and gentleman farmer. The Hall is a striking timber-framed building, with a 17th century brick kitchen extension. The house is furnished using a 17th century inventory and reflects the lifestyle of a wealthy family of the late Tudor and Stuart period of English history. Blakesley Hall is set within its own grounds which feature a fragrant herb garden, fruiting trees, a vegetable patch and a wildflower meadow.
About our taught sessions
Our taught sessions are themed around National Curriculum topics, and local history is at the forefront of our programme at Blakesley Hall. Students will develop speaking and listening skills through question and answer, discussion and exploring a range of evidence and gain valuable knowledge for subjects such as history, art and literacy.
---
Pre-Visit Information

Address
Blakesley Road
Yardley
Birmingham
B25 8RN
How to contact us
All visits require advanced booking - this includes teacher previews and taught sessions.
For enquiries or to make a booking contact the Education Bookings Team on 0121 348 8001 or email EducationBookings@BirminghamMuseums.org.uk
Risk Assessments
The risk assessment does not cover any time spent away from the site. We strongly suggest you visit us beforehand. Download the school risk assessment below.
Teacher Previews

If you are a first time visitor to Blakesley Hall it is recommended that a member of your teaching staff attends a pre-visit. Proof of teacher status must be shown at the ticket desk on entry (e.g. General Teaching Council membership, union membership card or signed headed school paper). Please contact the bookings team to arrange this.
Facilitated Sessions
Our facilitated sessions take place within the historic environment of Blakesley Hall and are interactive and hands-on. Sessions include active learning opportunities and are designed to appeal to all learning abilities and styles to enable pupils to investigate the home life, clothes, toys, and leisure time of the families who lived at Blakesley Hall in the past.

Self-Guided Visits

Self-guided visits are not available at Blakesley Hall. School groups see the site as part of each taught session.
Home Educators
We offer a warm welcome to Home Educating groups. All of our taught sessions are available for home education groups. We can adapt the content of the taught sessions to fit with mixed age groups, abilities and needs. A minimum charge may apply.
Disabled Access
The gardens and ground floor of the house are accessible by wheelchair users, however, as a Grade II* listed building we have been unable to install a lift within the house. Therefore those in wheelchairs will be unable to access the upper floors of the house. See Accessibility Information for full details.
Alternative accessible activities can be arranged with prior notice, to inform the team contact Education Bookings Team.
Clothing
All visitors must wear appropriate footwear when visiting. The house has historic floors with an uneven tread. It is advisable that flat footwear be worn. Blakesley Hall becomes very cold between October and March and all visitors are advised to dress warmly in the winter months. Coats will need to be worn in the house.
Goody Bags
Goodie bags are available to pre-order and can either be paid for on the day or via invoice to your school. We have a range of goodie bags to order (subject to availability):
£1.25 bag - Blakesley pencil and garden postcard in a bag
£2.15 bag - Blakesley pencil, garden postcard and sharpener in a bag
£2.75 bag - Blakesley pencil, garden postcard and magnet in a bag
To pre-order your bags please download the goody bag order form (Word format) and send this to EducationBookings@BirminghamMuseums.org.uk.
Sensory Bag
School Trips can be overwhelming. Our sensory bags are a great resource to support the experience of neurodivergent students with sensory needs. The bags contains a range of resources such as fidget toys, a magnifying glass, ear defenders and interactive picture books to help keep pupils engaged and calm during their visit. Please ask your Learning and Engagement Officer at the beginning of your trip if you would like a sensory bag for one of your pupils.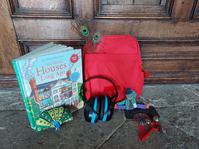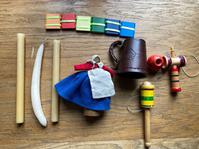 Pupil / Teacher Ratio
For Foundation and Key Stage 1 groups a minimum of 1 adult to every 6 children is required.
For Key Stage 2 and over a minimum of 1 adult for every 10 children is required.
A failure to meet these ratios may result in your session being cancelled upon arrival at the mill.
---
On the Day Information

Arrival
School groups should arrive 15 minutes before the start of their first taught session. This will allow for pupils to disembark from the coach, drop off lunch bags and visit the toilets.
Late arrival may result in your taught sessions being shortened. Sessions may not be carried over due to other groups visiting.
Coach Drop Off and Parking
Please arrange for the coach to drive down the drive and drop off in our car park. Free coach parking is available to the rear of the visitor centre on the car park or overflow car park.
Schools Entrance
Enter by the visitor centre to the rear of the house. Please knock the door for admittance.
Classroom
The classroom is situated in a 17th Century converted barn with views of Blakesley Hall. There are accessible toilets, hand washing facilities and coat hooks in the barn.
Lunch Area
We are a small heritage site and have no designated lunch area, however one class can have lunch in the classroom on site.
Cloakroom
There is not a dedicated school cloakroom but teachers and students may leave their belongings in the classroom which is a secure space, but it is recommended to keep high value items on you at all times.
Toilets
Accessible toilets are available for schools to use in the classroom. There are no toilets within the house itself.
Museum Shop
There is a museum shop available with a range of pocket money priced items. However, it is a small space so please let the Learning and Engagement Officer know as you arrive if you wish for the students to use the shop. 10 people can enter the shop at one time. Alternatively, you can pre-order goodie bags upon booking your visit.
Pupil Behaviour
It is the responsibility of the class teachers and accompanying adults to control the behaviour of pupils.
All taught sessions take place, at least in part, in the main house of Blakesley Hall, which is a Grade II* listed building and has many historic artefacts on display. Artefacts must not be touched unless permission is granted by museum staff.
Pupils are expected to show respect, listen to the museum staff and follow instructions. If it is felt the children are putting themselves, others or the museum in harm's way you may be asked to leave.
Adults must stay with the pupils at all times.
Drinks and chewing gum are not permitted inside Blakesley Hall.
Photography
Photography is permitted with the exception of the Painted Chamber. If you are taking photographs in your taught session please let the Learning and Engagement Officer know.
---
---