We are delighted to be able to welcome group visits to Soho House.
We can accommodate groups of 10 - 30 guests for a wonderful visit including a guided tour from just £8 per person.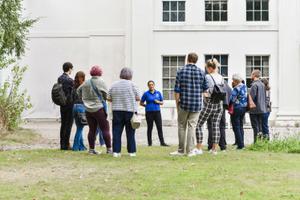 About Soho House
Soho House was the elegant home of the industrialist and entrepreneur Matthew Boulton from 1766 to 1809.
The house has been beautifully restored and reflects the fashions and tastes of the late Georgian period.
There's also the chance to see some of the products of Boulton's nearby factory – where buttons and buckles, clocks and vases, and silver and Sheffield plate tableware were made – and where he developed the steam engine in partnership with James Watt.
Soho House was also a favourite meeting place of the Lunar Society, a leading Enlightenment group. The Lunar Society would meet every month on the night of the full moon to dine, conduct experiments, and discuss philosophical matters of the day.
Members of the society included Erasmus Darwin, James Watt and Joseph Priestly who all gathered around the Lunar Room table and engaged in a lively exchange of ideas which inspired many new discoveries and inventions.
Group visit prices
Visit and tour from only £8 per person
Then add on the following as required:
Tea or coffee and biscuits £3.50 per person
Cream Tea or sandwiches (vegetarian/vegan/gluten free options available on request) includes tea or coffee, £6.50 per person. The whole group must have the same option.
Available Wednesday to Friday.
Free coach parking is available on the road.
Group tours must be pre-booked.
Terms and conditions apply.

Keeping everyone safe
What are our safety measures?

We want to make sure your visit is as safe and enjoyable as possible so some safety measures will continue:

We support staff and visitors who wish to wear a face covering.
Staff who test positive for COVID-19 isolate at home for at least 5 days until they have two successive negative tests.
We have hand sanitisers at the entrance and throughout the building.
Contactless card payments will limit personal interaction, but cash will also be accepted.
We have cleaners working throughout the day focusing on touch points and toilets to keep them safe and clean.

Please do not visit us if you are feeling unwell, have any symptoms of Covid-19 or have been in contact with anyone that has had the virus in the last 10 days. Please contact us if you have any further questions.