Birmingham Heritage Week to return
Stories
19 Jul 2023
News Story
City-wide Birmingham Heritage Week to return for ninth year in September 2023
Hundreds of walks, tours and open days across Birmingham
Chance to discover the heritage and history of your area
Bookings through Heritage Week website on 1 August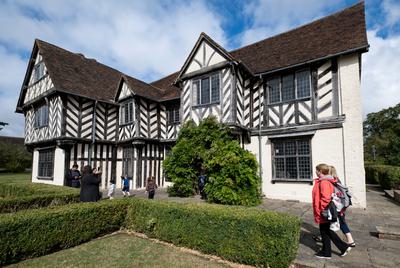 Birmingham's popular Heritage Week will return for its 9th year in September 2023.
The city-wide festival shines a spotlight on Birmingham's fascinating history with some of the city's most important heritage locations and unique buildings opening their doors for talks, tours, workshops, walks and much more.
Running from Friday, 8 to Sunday, 17 September, Birmingham Heritage Week is an opportunity to explore and discover your area and some of the city's buildings and outdoor spaces you would not normally visit.
Local organisations are currently busy organising their events for this year and all events will go live on 1 August, when bookings can be made through the Birmingham Heritage Week website.
Over the 10-day festival, events will be taking place across Birmingham. There will be hundreds of different events, walks and tours to choose from: cemeteries, canal tours, historic buildings, factories, museums, religious buildings including mosques, churches and cathedrals and outdoor heritage tours in local parks, neighbourhoods and conservation areas.
Urban walks will explore local neighbourhoods in Acocks Green, Austin Village, Digbeth, Yardley, Moor Pool, Handsworth, the Jewellery Quarter and the city centre. There will also be running tours along heritage sites, with details to be confirmed.
Buildings offering guided tours include the landmark Rotunda building, The Council House, The Exchange, Blakesley Hall, Weoley Castle Ruins, Birmingham Proof House, Highbury Hall, Handsworth Old Town Hall, Tudor Merchant's House and Old Grammar School, both Kings Norton, and many more to come.
The Divine Beauty project at Birmingham Cathedral, which is sensitively restoring the stunning Edward Burne-Jones stained glass windows, will offer scaffolding tours as well as a Divine Beauty-themed family craft day and a Divine Beauty concert.
Woodcock Street baths, the oldest still operational swimming baths in Birmingham, will offer guided tours with the opportunity of a swim afterwards.
A family fun day is planned at Moor Pool and Birmingham Museums Collection Centre – which stores hundreds of thousands of objects under one roof – will offer a great day out for the whole family. The centre, which is normally paid entry, will open its doors for free and there will be a free vintage bus service between Snow Hill station and the centre.
Local cemeteries in the Jewellery Quarter, Brandwood End in Kings Heath and Lodge Hill, Selly Oak, will offer guided tours, talks and genealogy advice.
Art historian Ruth Millington will shed new light on Birmingham's artistic heritage with a talk about the city's little-known role in the development of the Surrealism movement.
Workshops with a heritage theme will include Victorian fashion illustration, historical fiction writing at the National Trust Back to Backs and poetry and short story writing at the Pen Museum.
Bournville will have its Open Day on Saturday, 9 September, with 14 venues opening their doors, including the Serbian Orthodox Church and old Cadbury Works Concert Hall. Bournville Almshouses will be open and the Carillon can be visited. At the top you can see the carillonneur playing and enjoy a spectacular view over Bournville and surroundings.
There is also the opportunity to have a go at playing bowls at the Bournville Crown Green Bowls Club. Pre-booking for these events is essential.
Heritage events at Birmingham's green spaces include the Botanical Gardens, Winterbourne Gardens, a Sutton Park walk and a performance at the MAC about philanthropist Louisa Ryland, who donated Cannon Hill Park to the city.
Dozens of churches and religious buildings will open their doors during Heritage Week, including three cathedrals – St Chads, St Philip's and the Greek Orthodox Cathedral in the Jewellery Quarter.
The Dhamma Talaka Peace Pagoda, a Buddhist temple with a gilded dome near Edgbaston Reservoir, is celebrating its silver jubilee and will again open its doors to show visitors its recently restored and regilded dome.
Birmingham Heritage Week 2023 is sponsored by Birmingham City Council and organised by Birmingham Museums Trust.
Irene De Boo, Birmingham Heritage Week Co-ordinator, said:
"Heritage Week is about discovering the city's cultural and industrial heritage, learning new skills in a workshop or getting active with a walking tour.

"This year's Heritage Week visitors will be spoilt for choice with locations in the city centre and across the suburbs.

"More announcements about new buildings and tours will be made as we get closer to Heritage Week so be sure to visit the Birmingham Heritage Week website and social media to find out more."