Birmingham's Sites of Surrealism
Stories
26 Jul 2023
News Story
Do all great ideas start in the pub? Perhaps not. But Birmingham's Trocadero was once the meeting place of the city's Surrealists: Conroy Maddox, Emmy Bridgwater, brothers John and Robert Melville, Oscar Mellor and Desmond Morris. Between 1935 and the 1950s, these artists brought the strangest of all modern art movements to the Second City. Gathering momentum beyond traditional galleries, it flourished inside cafes, pubs and private houses, travelling from leafy Edgbaston to bohemian Balsall Heath.
Here are 6 sites of Birmingham's surrealism, which you can still visit today:
1. Emmy Bridgwater's Edgbaston home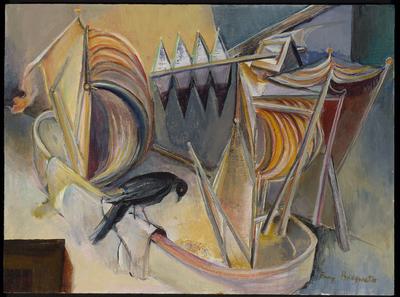 Just a short walk from Five Ways train station is a blue plaque, located at 42 Lee Crescent, signalling that this was once the home of Emmy Bridgwater. She began studying art at Birmingham School of Art, where she became a skilled painter and draughtswoman. But it was in 1936 that she attended the International Surrealist Exhibition in London, which she regarded as "quite a revelation", inspiring what she referred to as a "transformation" upon her practice.
At this show, she met fellow Birmingham artists Conroy Maddox and John Melville, and the writer Robert Melville; back in her home city, she worked with them to establish the Birmingham Surrealist Group. From the start, they established themselves in opposition to London's artists, sharing a belief that many of these artists were involved in the movement just for exposure. "No doubt it was possible to perceive Surrealist imagery in a lot of paintings, but that hardly made them Surrealist", declared Maddox.
Instead, they built links directly with the Surrealists in France, including the movement's founder André Breton, who was a fan of Bridgwater's work. Impressed, he wrote: "Bridgwater brought a new purity of outlook to British Surrealism, returning to the early days of the movement, to its 'automatic' beginnings in France". From the late 1930s onwards, she made paintings, collages and ink drawings depicting the uncanny, using a symbolic language of birds, snakes, eggs and organic forms. Alongside her fluid pictorial experiments, she also wrote much poetry, populated by the same symbols from her drawings to depict the unconscious mind.
2. Balsall Heath
Birmingham's artists also made surrealist sculptures by transforming ordinary objects into illogical items. Most famously, Conroy Maddox created his legendary 'Onanistic Typewriter I', 1940, rendering the machine useless by sticking spikes on the keyboard. Maddox was to Birmingham what Salvador Dalí was to Paris, spending 70 years as a committed surrealist, and infusing paintings, collages and photographs with a sardonic Brummie humour.
Although the Surrealists developed their own individual styles, they also acted as a collective, and were brought together by Maddox. An extrovert, who loved debate, he would welcome them into his huge 11-room house at 29 Speedwell Road in Balshall Heath for fortnightly parties. In one interview he once recalled these hedonistic events:
"We had a friend who worked in the laboratory and he used to bring pure alcohol, so we would open the bottles and knock out about half a pint and fill it up with pure alcohol, which was quite potent, you know, you'd be talking to someone leaning against a wall and suddenly they would collapse in front of you."
During the late 1940s, Maddox's guests included the jazz star George Melly, dancers, academics and students from the University of Birmingham. In fact, it was through these gatherings that Desmond Morris, a zoology student at the time, became involved with the movement, remembering:
"True, I was attending lectures, taking notes, and making copious drawings from the microscope, but my preoccupations with the art world were still a major distraction. As soon as I had arrived in Birmingham I had set about exploring the local art scene and found, to my great pleasure, a thriving surrealist group centred on the home of the painter Conroy Maddox".
3. University of Birmingham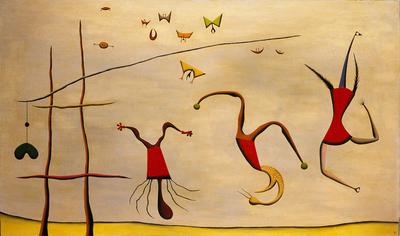 The University of Birmingham also provided Morris with the inspiration for one of his great surrealist objects. Behind the zoology department there was a rubbish dump and on it, one day, he spotted a discarded elephant's skull:
"I was surprised that anyone would want to dispose of such an awesomely magnificent relic, but I was told that this one was in rather poor condition and no longer suitable as a scientific specimen.
As far as I was concerned, its eroded surfaces rendered it even more remarkable, as a piece of natural 'sculpture' – what the Surrealists referred to as an objet trouvé. I decided that such an object should inspire a sense of wonder and determined to bring it to people's attention.
It was extremely heavy and I had to enlist the aid of a number of hefty helpers, who assisted me in carrying it down the road to the nearest tram stop. The conductor refused to allow us to sit with it in the tram, insisting that it was 'luggage', and made us stow it under the stairs with a group of suitcases, where it was already beginning to take on a suitable irrelevancy".
Arriving in the city centre, Morris left this surrealist object sitting in a shop doorway on Broad Street…
4. Broad Street
The next day, "A dinosaur in Broad Street" was the headline in the local Birmingham newspaper. "Below it", Morris says, "was a photograph of two policemen struggling to force a strange object through the door of a police-car. It appeared to be a huge skull, so massive that it was clearly jamming in the open door. What it was doing in the centre of a busy industrial city was not clear. The paper played up the mystery angle and noted that a museum expert had been called in to identify it".
5. Kardomah Café on New Street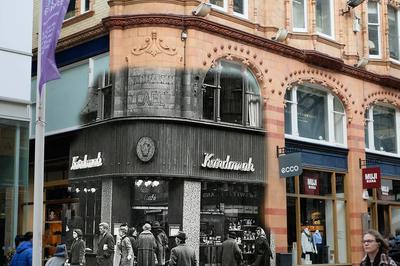 The city centre was also home to the Kardomah Café, where Morris and the other Surrealists would meet to share ideas. Popular in the first half of the 20th century, the Kardomah cafés were a chain of coffee shops in the UK and Paris that featured live entertainment, as well as coffee, and became gathering places for writers and artists. Today, remnants of this café can be found inside Tyrwhitt, a men's clothes shop on New Street. On one wall is an original mosaic, featuring roses and leaves, in front of which headless mannequins stand around, looking a lot like surrealist sculptures.
6. The Trocadero on Temple Street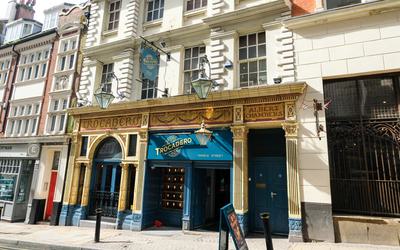 The Birmingham Surrealists, who saw themselves as opposed to the London lot, were determined to prove that they were more radical and more subversive than their counterparts. The strange, industrial Second City was the perfect playground for their movement. It's only natural, then, that they also met in their local pub, The Trocadero. Today, it still has its Grade II listed ceramic frontage and original ornate ceilings, allowing anyone to drink in the atmosphere of one of the most surreal sites of Birmingham's important modern art history.

By Ruth Millington
Ruth is an art historian, critic and author specialising in modern and contemporary art. She recently developed and co-presented a documentary on 'The Balsall Heath Bohemians' with Stewart Lee, which will be broadcast by BBC Radio 4 on 1st August: