Modern Muse - Sisters of inspiration
Stories
23 Nov 2022
News Story
At the age of 12, I remember going to my school best friend Kate's house for the first time. She lived in an Edwardian house in Old town, Eastbourne and in her living room was a large wall print of John William Waterhouse's 'Lady of Shallot', framed in thick gold and placed on a bright burgundy wall. Kate's mother was wearing her powder blue midwife uniform and had this incredible red curly hair. I remember seeing her standing in their living room next to this painting holding a glass of wine. Reflecting on this moment, I think this was my first encounter with a Pre‐Raphaelite painting. I grew up in a Hindu home across India and Saudi Arabia, with images and shrines of Goddesses emerging out of great big lotus flowers or riding swans or fierce tigers.But this vision of 'Lady of Shallot' stayed with me and when I was older and studying photography in Edinburgh, I ended up having my own framed wall print of her in my living room, placed next to a vintage lithograph of a glittery blue lord Krishna, and a post card with Frida Khalo's portrait on it, photographed by Nickolas Muray.
Growing up in the 90's in the UK, there really wasn't much representation of South Asian identity in the mainstream media that I felt I could identify with. I remember how excited and special I felt whenever I'd get a glimpse of bands like Cornershop and No Doubt on MTV. I never grew up in a town with a large South Asian community in it, so was often the only Indian girl in my group of friends or in my class at school and college.
When I went to University in Scotland, I made my first South Asian best friend called Miah. For the first time, I had someone who understood the complexities of having a dad that puts cling film on remote controls and someone I didn't have to explain my parents arranged marriage to. Miah was of Bengali heritage and had a thick Scottish accent, and when we'd go out we were often asked that very familiar question 'Where do you come from?'. I always had a very long elaborate answer and Miah would quite simply and firmly say 'I'm from Inverness, Pal'. Our answers have definitely evolved in our 21 years of friendship, but I think our humour has remained the same.
When I was studying photography, I was introduced to the writings of Stuart Hall and Bell Hooks which I'm forever grateful for, but when it came to looking at the works of artists of colour, very little was shown or discussed. It was through independent research that I came across the powerful works of Zarina Bhimji, Sutipa Biswas, Chila Burman and Maud Sulter. Maud Sulter's work really moved me, particularly her series 'Zabat' where she photographed contemporary black women dressed as Greek muses, challenging the visibility of Black women in Western art and literature. It made me reflect a lot on the lack of representation of South Asian female identity in galleries and museums at that time. I didn't see art that I could identify with - photographs that reflected on and represented the complex narratives of women of South Asian diaspora. So, it was this journey that led me into making projects such as 'Vasant Ritu', 'Nymphaeaceae', 'Purdah – The Sacred Cloth' and 'Nalini'. These projects feature so many inspiring and strong South Asian women, including Miah, my mother and my grandmother.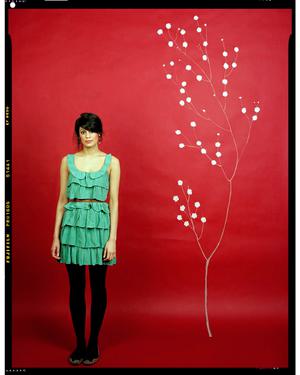 The photographs from each series explore cultural identity, notions of home, migration, memory, womanhood and diaspora. Much of my work draws visually and conceptually from Asian mythology and Indian miniature paintings, but often reframes their original meanings through the experiences, perspectives and clothing worn by my contemporary female sitters.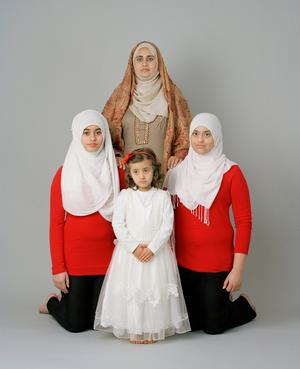 I feel many of these themes and conversations extend into my new series 'Modern Muse', but there is also something that feels unique and special about this work. There is this collective power and sense of sisterhood in seeing the portraits of these British Asian women side by side and reading each woman's powerful words.
'Modern Muse' was commissioned in 2019 by GRAIN, a photography organisation based in Birmingham. I had met GRAIN's Director Nicola Shipley in 2017 at UNSEEN Photography Festival in Amsterdam, through a portfolio review. It was through this meeting that I formed a wonderful relationship with GRAIN and was invited to make new work in Birmingham. During my first research trip I was introduced to an incredible community of young diverse female artists and creatives. I was also really taken with the city itself and how multicultural and creative it was, wondering what it would have been like to have grown up in a city with such a strong South Asian community. As an artist, I felt like it was a really important time to be photographing South Asian women in the West Midlands and that is how 'Modern Muse' began.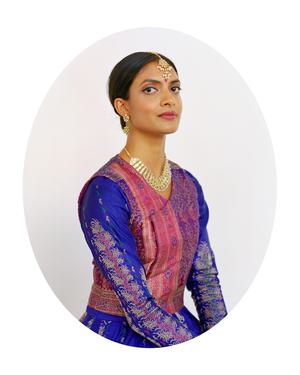 'Modern Muse' is a series of portraits of young and diverse contemporary British Asian women, who are artists, educators, writers and activists. Visually the work draws from oval miniature paintings of Mughal emperors and challenges the traditional representations of South Asian women in Mughal miniature paintings. Historically, Mughal women did play crucial roles in that period, however they were often sensually portrayed, as a consort or a lover, through the eyes of a male artist. So through 'Modern Muse', I wanted to challenge these narratives and the male gaze by choosing to deliberately replace the Mughal emperors with portraits of modern British Asian women. It was also really important for the work to address and reframe Western notions and traditional representations of the white female 'muse', through the portraits, the gaze and the words of powerful and inspiring women of colour.
I met many of the women I photographed as part of 'Modern Muse' on social media. Some of whom I already followed as I was a fan of their work, and others after sharing an open call for the project. My muse 'Haseebah' was the first woman I approached and photographed for the project. We initially met at the Asian Woman Festival in Birmingham in 2019, and I remember feeling instantly drawn to her, as she has this magnetic energy and style. Haseebah is a talented artist, and I was so pleased she was so open to getting involved in the project.
'Modern Muse' features so many incredible women from diverse South Asian cultural backgrounds with varied perspectives and lived experiences. Each portrait is accompanied with extracts from conversations we had prior to the photo-shoot about identity, heritage, representation and being asked 'where do you come from?'. I can't express how eternally grateful I am to these women for being so generous, supportive and open with me.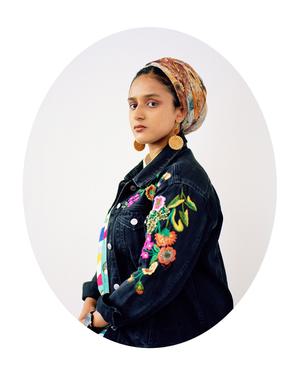 When I was transcribing these conversations, my best friend Miah was assisting me and on numerous occasions, we both reflected on how incredible it would have been to have had women like these in our lives to look up to and hang out with when we were growing up.
I made 'Modern Muse' for South Asian girls and women, for them to feel represented. So, having a selection of this work acquired by Birmingham Museums Trust to become part of the city's permanent collection, alongside traditional muses like Rossetti's 'Proserpine' and Bunce's 'Musica', is such a pivotal andspecial moment for me as a South Asian woman and female artist.
All the women from 'Modern Muse' have strong connections to Birmingham, which makes this acquisition feel even more special and very relevant. It is so important for art museums and galleries to reflect the diverse communities in the UK, and to represent their varied narratives.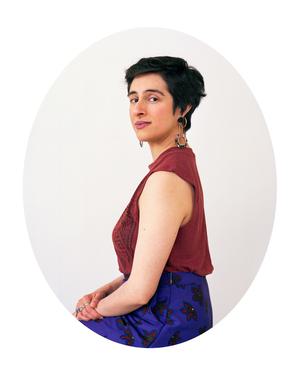 Returning to the wall print of 'Lady of Shallot', I think all this time, I thought I was in love with the painting, but it was actually the feeling I got seeing Kate's mum standing next to an iconic painting of a woman that looked like her, and it was the power in that moment that has always stayed with me.
Arpita Shah
Arpita Shah is a photographic artist based in Eastbourne, UK. She works between
photography and film, exploring the fields where culture and identity meet. As an India-born artist, Shah spent an earlier part of her life living between India, Ireland and the Middle East before settling in the UK. This migratory experience is reflected in her practice, which often focuses on the notion of home, belonging and shifting cultural identities.
She graduated from Napier University in Edinburgh in 2006. Her work has been exhibited across the UK and internationally, including at the Detroit
Center of Contemporary Photography (2013); Tramway in Glasgow (2014);
Chobi Mela IX in Dhaka, Bangladesh (2017); Autograph APB in London (2018)
Street Level Photoworks in Glasgow (2019) Impressions Gallery in Bradford (2020) and Towner Art Gallery in Eastbourne (2021). She is the recipient of the 2019 Light Work + Autograph ABP Artist-in-Residence programme in Syracuse NY and her work is held at the National Galleries of Scotland.
Modern Muse was commissioned in 2019 by Birmingham-based arts organisation GRAIN. To purchase a copy of the Modern Muse book, please visit Birmingham Museums Shop website.