Volunteering for Veterans
Stories
5 Jan 2022
News Story
A new health and wellbeing project for ex-servicemen and women at Birmingham Museums has helped four local veterans get back on the road to recovery by conserving vintage motorbikes from the city's collection.
Volunteering for Veterans was set up by Birmingham Museums in 2021 to support former members of the local Armed Forces community by providing skills development opportunities alongside social and wellbeing activities. The project was made possible with funding from the Armed Forces Covenant and The Limoges Charitable Trust, and support from the Royal British Legion and will run throughout 2022 so that more veterans can benefit.
Over the last six months, four local armed forces veterans – David Brooks, Tim Seeley, Wayne Thompson and Steve Lees – have all volunteered one day a week at the city's Museum Collection Centre conserving, cleaning and researching the motorbike collection. As part of the project, they have also restored one motorbike – a 1914 Cyclone – that has now gone on display at Thinktank, Birmingham Science Museum.
Andrea Bonnell, Senior Engagement Officer at Birmingham Museums, said: "Our Volunteering for Veterans programme was set up as a conservation and wellbeing opportunity for members of the local Armed Forces community. By using real objects from the city's collections, the veterans have benefitted from training in conservation, research and creative therapies which have all helped build confidence and motivation. In turn they have supported Birmingham Museums and the work we do in looking after the city's collection."
"It's that positivity you get – after our weekly volunteering session I'll go home feeling I've done something good and will feel better for tomorrow and the day after. People don't understand how debilitating PTSD is and so to come here each week has made a massive difference."

David Brooks, Ex-serviceman and volunteer
Tim Seeley, said: "If it wasn't for Birmingham Museums getting their Volunteering for Veterans programme up and running a lot of veterans wouldn't be able to socialise or get back into some sort of activity and out of a rut. A lot of veterans suffer from PTSD, anxiety and depression so getting them involved in a project like this is just amazing."
Wayne Thompson added: "The Royal British Legion asked me if I would be interested in volunteering with the museum. At first, I was petrified but working in the storage area of the Museum Collection Centre has been a welcoming and safe place. I've learnt a lot about conservation and motorbikes and for me my weekly visits have been an escape – I feel happy afterwards."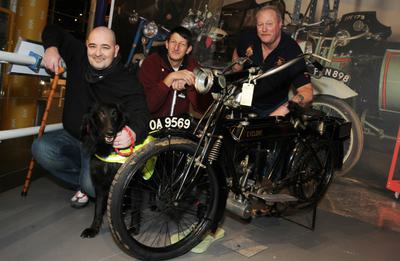 Birmingham Museums has a busy volunteering programme in which around 1000 volunteers give over 26,000 hours of their time each year to support its work in caring for the city's collections and museum sites. Working with various partners Birmingham Museums also deliver health and wellbeing programmes, enabling access to disadvantaged people or reaching out to new audiences who have not visited any of the city's nine museums before.
The 1914 Cyclone motorbike is now on display at Thinktank, Birmingham Science Museum.