Birmingham Museums Trust is a registered charity. We are responsible for our own income generation and sustainability through fundraising, commercial hire and retail.
We are extremely grateful to all of our funders and supporters, without whom many of the programmes and services we run would not be possible.

In particular, we are grateful to Birmingham City Council, Arts Council England, National Lottery Heritage Fund and Millennium Point Trust for their continued investment in making Birmingham Museums Trust an essential and world-class group of museums. We are also thankful to The Friends of Birmingham Museums and the Public Picture Gallery Fund for their on-going support.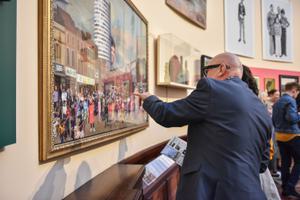 Our Corporate Supporters
Birmingham is a city that businesses fall in love with and the passion of its people is infectious. We are extremely grateful to our Corporate Supporters for helping us make an impact on our city's future.
Corporate Patrons
Savills (Founding Member)
Corporate Members
Cooper Parry (Founding Member)
Stowe Family Law
Our Patrons
Our patrons provide vital support to the ongoing development of our nine sites across the city. Their support has allowed us to acquire important pieces of art, provide exciting learning workshops and reach communities throughout Birmingham.
Gold Patrons
Dr Charley Johnston
Mr Christopher Firmstone
Silver Patrons
His Honour Alan Pardoe QC
Mr David Corser
Mr Guy Davies
Mr Joe Godwin
Bronze Patrons
Dr Anthony Verduyn
Mr Andrew Charman
Mrs Ann W. Crump
Ms Ann Warner
Mr Carl Durose
Ms Chrissie Twigg
Mrs Claire Williamson
Ms Clare Robinson
Mr David Hallam
Mrs Deborah de Haes
Mr Eamon Mooney
Mr Gavin Burns
Mrs Gillian Shaw
Dr Harriet Martin
Dr Ian Grosvenor
Mr James Wells
Mrs Luned Corser

Mrs Mary Mellor
Mr Miles Plumb
Mr Peter Hutton
Mr Philip Mills
Mr Richard Meek
Mrs Rita McLean
Dr Roy Cockel
Ms Shannon Lattin
Ms Tracey Stephenson
Mrs Yvonne Gateley
And all those who wish to remain anonymous.
We thank the hundreds of trusts and foundations, both regional and national, who have supported all aspects of our work, from providing funds for permanent and temporary exhibitions to dressing up clothes for visiting children and from securing historically-important acquisitions to funding exhibition catalogues. Every pound provided has gone a long way in ensuring that we provide the best possible service to the one million people that visit one or more of our museums each year.
And, finally, we are extremely grateful to our visitors, who continue to access our collections in huge numbers and donate in a multitude of ways. You are the reason that we endeavour to provide the best experiences possible.