A planetarium is a theatre under a dome, specially designed to help you explore astronomy, space, and the night sky.
Inside a planetarium, images appear all around you, not just in front of you – it makes you feel completely immersed in the action!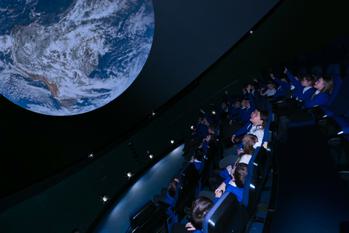 Thinktank Planetarium
Step inside our Planetarium and explore the outer reaches of space, get up close to constellations, journey through the night-sky and adventure through the solar system!
In addition to astronomy, there will be shows that allow you to travel through the human body; dive under the ocean; shrink to the size of an atom or allow yourself to be immersed completely in music and light.
Our 4K planetarium system has bright, sharp images and crystal clear surround-sound. It the only one of its kind in the West Midlands.
The seats and common touch points are sanitised regularly throughout the day. We encourage the use of face coverings when possible.
The planetarium is located on Level 3.
Planetarium Tickets

Planetarium shows are £3.50 per person per show, in addition to admission price (£3 for members). Under 3 year olds are free (unless stated otherwise) but they must sit on their adult's lap.
Tickets are available to purchase online with your admission ticket or on a first come first served basis at the ticket desk on arrival. At peak times (particularly weekends and school holidays) tickets sell out very quickly and entry to the planetarium cannot be guaranteed for every visitor.
Groups larger than 10 should pay and pre-book a show before they visit by contacting us (see below for details).

Special Events
Thinktank planetarium often runs special events during the year. These have included evening astronomy talks, solar observing and even theatrical productions. Visit the What's On for details of upcoming events.