Take a look inside the rooms on the ground floor of Aston Hall.
Use the 360° photos below to explore these spaces.
The Ground Floor of Aston Hall
This floor plan of the ground floor of Aston Hall shows where the rooms are located.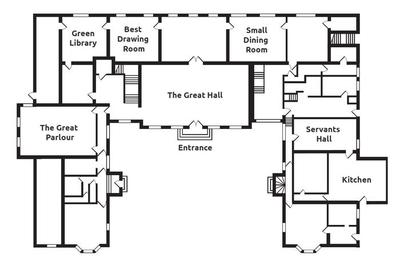 The Great Hall
The original use of Great Hall was for the servants to eat and for estate business to take place.
In the 1600s the fireplace was moved from the Saloon doorway into its present position. The inscription above the fireplace was a warning to servants to obey their master and know their station.
The ceiling is the original 17th Century ceiling, however in the 1800s an elephant monogram was added to the ceiling.
The Great Parlour
In the 1700s Sir Charles Holte converted this room into a private chapel, including lowering the floor and having an altar and family pew installed.
It was converted back to its present state in the 1870s.
The Best Drawing Room
This room is painted in the colours known to have been used in the 'Yellow library' by James Watt Jr.
Its fireplace is possibly the original taken from the Great Parlour.
The Small Dining Room
Used as a breakfast room between 1771 – 1848. James Watt Jr. lived mostly in these backrooms and used the large 'back door' to the saloon as his front door as it was quicker for getting on the road to the Soho manufactory in Handsworth.
The Green Library
Originally a downstairs bedroom, Heneae Legge fitted this room up as his library, hence its renaming as the Green Library. It has access to the small dining room to the North, as well as the colonnade (East), and Lady Holte's Garden (South).
The Servants Hall
This room and the passageway outside was the original kitchen. We know that this room was modified by James Watt Jr. as his motif of an elephant is in place above the fireplace.
Kitchen
A single story extension to the original building. This area provided a much larger kitchen space for servants to use, and during James Watt Jr.'s residence included a steam kitchen range, most notably of which is the 'smoke jack'. A steel spit uses the steam rising up the chimney to turn the spit, eliminating the need for a servant to turn the spit by hand.
Continue to see inside Aston Hall by exploring the upper floors.