JRR Tolkien
At Sarehole Mill we like to celebrate the connections between JRR Tolkien, the Mill and the local area.
J.R.R. Tolkien remains one best known authors in the world. His epic work The Lord of the Rings (published 1954-55) was voted the most popular book of the twentieth century. His children's story The Hobbit (1937) is equally famous, and the two works have been translated into dozens of languages worldwide. Of course they have also been made into very successful films!
Sarehole was the childhood home of JRR Tolkien. His parents were from Birmingham but had emigrated to South Africa, and John Ronald Reuel (JRR) Tolkien was born in Bloemfontein in South Africa on 3rd January 1892. Tolkien's mother brought her two sons back to the UK to visit family in 1895, and while they were here her husband died. She relocated the family to Sarehole in Worcestershire, which is now Hall Green in Birmingham.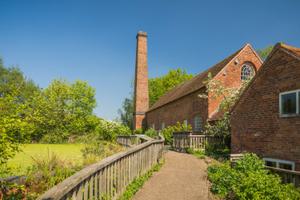 Sarehole Mill and Middle Earth
Sarehole Mill was one of the Tolkien boys favourite places. The boys would hop over the fence and spend hours fishing, bug hunting and generally playing in the grounds of the Mill - much to the annoyance of the miller, George Andrew, who would sometimes chase the boys off, earning him the nickname "The White Ogre".
The Mill and the surrounding area influenced the Middle Earth he created in his books The Hobbit and The Lord of the Rings. Sarehole Mill has a chimney, an unusual feature for a water mill. This stems from the fact that when Matthew Boulton rebuilt the Mill in 1768, he put in a steam engine in order to press steel. When Tolkien illustrated his original books, he always drew the mill in Hobbiton with a little tower, just like Sarehole Mill.
In a 1966 interview Tolkien said 'I was brought up in considerable poverty but I was happy running about in that country. I took the idea of the hobbits from the village people and children.'
From what was then the rolling farmland of Worcestershire, Tolkien would have been able to see the industrial city of Birmingham in the distance, spewing up its black smoke from the chimneys of Sparkbrook, Alum Rock and Balsall Heath. This view of industrial Birmingham may have been where the image of Mordor was first inspired.

Join one of our guided tours to find out more - see our Visit Us page for opening times and to book.
---
You might also like...