Late night art shows at Digbeth First Friday
Stories
6 Apr 2023
News Story
Eating bread from (possibly) the oldest bread recipe in the world and listening to a tin can choir perform on the roof of a former boiled sweet warehouse is all part of the experience of Digbeth First Friday (DFF) as is seeing new work by local and international artists, musicians and filmmakers.
DFF sees the late-night opening of art galleries and studios in Birmingham's creative quarter – a post-industrial, warehouse strewn and occasionally cobblestoned area to the east of the city centre – and has been a mainstay of the city's cultural scene for the past eight years.
The first DFF was Friday 2 May 2014 and included special performances and exhibitions, including an exhibition by founder of The KLF, Bill Drummond (and tasting of his homemade marmalade), a European-themed rendezvous followed by a late night party, the promotion of street food event, Digbeth Dining Club and a late night opening from independent retailer, Provide.
Digbeth had been a centre for grass roots culture for many years, but by 2014 was home to a growing group of artists, curators and independent arts organisations. One of the first was in the area was Friction Arts, which started life in Digbeth in 1992 as Funding Pending Live Arts had changed its name and in 2007 and moved to its current home, The Edge in Deritend on the south side of Digbeth High Street. A year later Eastside Projects opened on the north side of the high street.
They have been joined in the past 15 years by more art galleries and arts projects that form the core of DFF today, including Grand Union (2010), Vivid Projects (2012), Stryx (2012), Centrala (2014), Recent Activity (2015) and Cheap Cheap (2019).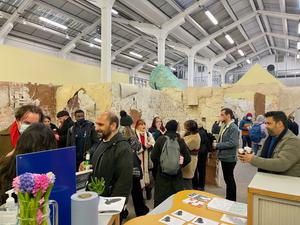 Inventive performances
DFF events have included a hugely inventive mix of performances including FOODlab at Vivid Projects where artist Kaye Winwood created a pop-up food laboratory in collaboration with chef Chris Hughes, Fierce Festival's Artists Behind Bars where ten artists installed and manned their own specially themed bars in Grand Union from 8pm to 2am, and Wallpaper/Performance by artist Sonia Boyce who turned Eastside Projects into a skatepark for a night.
Collaborations have also taken place with wider Birmingham cultural organisations including Flatpack Festival, Brum Radio, Digbeth Community Garden, The GAP, Supersonic Festival, Punch and Arts All Over the Place. In 2014 a special First Friday Pale Ale was introduced on at one of the area's long established pubs, The Anchor, and in 2019 opera performances were held at microbrewery, Dig Brew Co. in collaboration with Grand Union and Infinite Opera.
One of the most recent collaborations has seen Birmingham Museum and Art Gallery and Vivid's Black Hole Club work together to produce Cut Copy Remix to explore the creative potential of Birmingham Museums Trust's Digital Image Resource, which has resulted in new works produced by the UK's foremost satirical artist and Brummie, Cold War Steve and more recently with creative producer and cabaret performer, Fatt Butcher and artist Emily Mulenga.
Each DFF has a mix of unique performances, exhibition launches, new art, talks, film, live music and DJ sets as well as food and drink that all combines to create a convivial meeting place.
It attracts artists, art enthusiasts and general visitors both from Birmingham and tourists looking for something different from the main city centre attractions.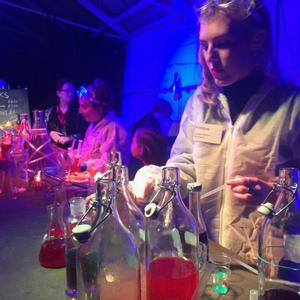 Digbeth First Friday – the beginning
There have been other initiatives in Birmingham to encourage late night art visits such as the Art Bus which ran late night shuttles to galleries including the Mac, Barber Institute of Fine Arts, Ikon, Birmingham Museum and Art Gallery, the Royal Birmingham Society of Artists and Eastside Projects from 2008­–2016.
But it is DFF that has endured and consistently put on unique monthly events for the past eight years.
Friction Arts Creative Director, Sandra Hall, said: "We were interviewed by a student about what we felt about the arts scene and we turned it around (as we often do) and asked her how she felt. She said things worked best when there were a bunch of different things happening concurrently and you could visit different stuff at the same time. We thought about it and had a look around and there was some model in the US, Chicago if I remember correctly, where they were doing stuff on the first Friday of the month- so we pinched the idea."
Indeed, Chicago has a First Friday arts night and is not alone: there are more than 50 other US cities that do the same, including one of the oldest at SoWa Art & Design District in Boston, which began in the early noughties.
Sandra and fellow Friction Arts Creative Director, Lee Griffiths invited Gavin Wade, Artist Curator at Eastside Projects and Cheryl Jones, Director at Grand Union over for lunch where they pitched the idea. This led to a pilot 'Art After Hours Event' in 2013.
The first official planning meeting for Digbeth First Friday took place on 17 March 2014 with members from Eastside Projects, Friction Arts, Warwick Bar, A3, Vivid, Grand Union, Lombard Method, Edible Eastside, Stryx and The Bond. It was introduced as 'A project to pilot for six months' and resulted in the first DFF being launched on May 2 2014 with 12 events on offer.
Sandra said: "It was a zero-cost way of making something happen, it would just mean programming stuff on the first Friday of the month and everyone would get to share audiences, it would create a buzz around the area, rather than stuff being individualised and fragmented.
"It makes the cultural offer more visible, it means you might get a bigger audience for your show or exhibition. Birmingham's often been seen from outside as a cultural desert, so anything that works against that (erroneous) image has got to be a good thing."
Friction Arts has recently received Arts Council England funding to redevelop its home at The Edge and has stepped away from its involvement in DFF to concentrate on its community work and site-specific projects but will still look on with interest at DFF's development of the late night events it hosts and its collaborations.
"People tend to stick to the Eastside area and we're in deepest Deritend, a whole seven or eight minutes' walk away, which is a bit too far. We'd like to see more businesses and venues involved and a much wider range of arts and cultural activities on offer. Digbeth isn't what it was when a lot of us rocked up here in the early '90s, but it would be great if the people and organisations who have invested so much time and energy in the area were to influence what it is going to become."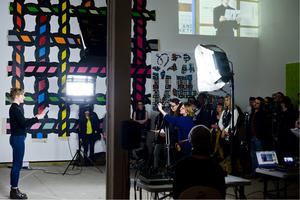 Major developments in Digbeth
Since the first DFF in 2014 there have been many changes to the area with the expansion of the night time economy and opening of an array of pubs, bars, microbreweries, and nightclubs as well as shops, cafes and restaurants. Many of these are in and around the mixed-use Custard Factory, the former headquarters of Bird's Custard, but others are on side streets that make a visit to Digbeth these days an interesting trail of discovery for natives and tourists alike. This explosion of independence has earnt Digbeth many accolades in magazines and newspapers and a reputation as great place to be.
Major investment in Digbeth is now underway in the shape of an under-construction tram extension and a 15-year Digbeth Masterplan that will redevelop 42 hectares and include a sky park on a disused railway viaduct. The HS2 Curzon Street station development is also less than a kilometre away, all of which has inevitably led to rent hikes with developers eager to buy up units for further commercial ventures.
There is also growing focus on media in the area - the BBC recently announced that they will be taking up residency in the old Typhoo Tea factory and other big developments include Digbeth Loc film studios backed by Peaky Blinders Director, Steven Knight and the Upper Trinity Street development, which will include the headquarters for the National Museum of Youth Culture and a new Birmingham Music Museum.
These plans are impacting many of the Digbeth based cultural organisations. In October 2022 the BBC announced the Banana Warehouse on the Warwick Bar site will house the Master Chef studios. This is directly behind Minerva Works a collection of industrial buildings on Fazeley Street which are home to Grand Union, Vivid Projects, Centrala and Stryx, and also slated for redevelopment.
Grand Union has been working hard with Homes England to secure their new home in the Junction Works canal offices further up Fazeley Street. They have already completed the first phase of their plans to turn the building into a high quality centre for contemporary visual art, with a gallery, public spaces, artist studios and creative workspace.
Cheryl Jones, Director of Grand Union, hopes that, when finished, the building will also provide much-needed facilities for artists and arts organisations in the Digbeth area. "Some have already moved out due to increasing rents, so having a centre for contemporary arts in the heart of Digbeth gives us the chance to preserve the ecology of our artist community – in turn benefiting audiences and the wider city."
As Sandra Hall notes: "Artists and arts organisations are often precursors to the development of an area and are part of what makes it attractive to potential residents and developers. This often means that they then end up being moved on when property becomes the driver for an area, it's why we took the risk of buying our building – I'd hate to see the arts scene disappear as so much effort has been put into making things happen here.
"Fortunately, our ownership of our space and the investment we've had from Arts Council and other funders means the Edge should remain for many years to come, and long after I'm not around anymore. Keep Digbeth Different!"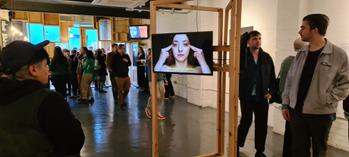 DFF - Amplifying Digbeth
Just around the corner from Minerva Works is Eastside Projects, an artist-led multiverse who among other things manage the First Friday website and run the Birmingham Art Map, a print and online resource which lists exhibitions and events across the city.
Ruth Claxton, Artist Maker at Eastside Projects, said: "We could see that Digbeth First Friday was an interesting model that could help amplify what was already going on in Digbeth."
"The strapline has always been 'try something new' and for me that has been key to its success in terms of bringing new audiences for the arts to Digbeth. It's perfectly set up so you can come in and out of different venues. The beauty of DFF is that you don't have to stay if it isn't for you. You can just go next door, or up the road where there might be another event that's right up your street."
Over the years First Friday has helped develop new audiences for everyone involved and increasingly people see DFF as a night out with initiatives like the Art and Bars Meet Up group attracting 70 people on one night earlier this year.
Ruth said: "At the start the DFF audience was mostly artists or people who already knew about Birmingham's art scene, but over time it has really changed and now I think our audiences better reflects the city much more. There is still work to do but there is definitely more diversity and creating a warm and friendly vibe has been key to that. For me it's also to do with the range of artists and exhibitions people have been programming, which represent Birmingham in ways they perhaps didn't in 2014."
Eastside Projects realised early on that performances really worked for DFF because they activate the space in different ways to an exhibition and as one off events give an extra reason for people to come along.
"Increasingly what we have done is commission events and performances that have a live dimension. We probably wouldn't have done that otherwise, so First Friday has also given us the opportunity to try new things out as we know it will bring a big enough audience in to make that feel worthwhile.
"Our aim has always been to bring world class art to Birmingham and have an impact on the city, I think DFF has been a great way to achieve both of those.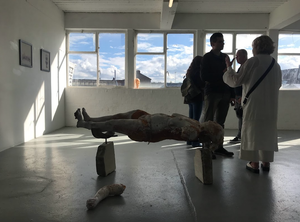 Hyperlocal, super international
"One of the things we've always been interested in is how you can be hyperlocal and super international at the same time. The fact we might have Lady Skollie from South Africa making a performance while at Stryx they've an emerging artist from Birmingham within the same event is where the strengths lie."
A highlight of hers has been Performance as Publishing, a programme curated by Ruth Beale and Nicole Bachmann that took over Eastside Projects on three consecutive First Fridays from March to May 2016 and was lived streamed.
"That had a real scale to it and it was quite new and exciting to be streaming live to the world from our corner of Digbeth. Overall, it's been amazing to bring really incredible, diverse artists up close to audiences. We give them the floor and they make the work and we create the moments for them to share it."
For Ruth it's important that DFF continues to evolve. "To be part of DFF all you have to do is organise your thing and list it on the website by filling in the form. I think it's essential that it the invitation to get involved is there for everyone working in Digbeth. DFF has grown pretty organically and I really like the way it has stayed fluid and loose – a container for activity once a month that doesn't belong to anyone in particular."
She acknowledges that there are many challenges such as rising rents and huge developments in the area, but also questions whether the contribution of non-profit cultural organisations such as those that take part in DFF is properly understood.
"The area is very different to how it was pre-Covid and the speed of change is quite intense in Digbeth at the moment leaving lots of arts organisations in a precarious situation. The big question is whether people in power or those making money off the back of all this work recognise the value this non-profit-making culture has, not just in Digbeth, but throughout the city. And most importantly whether that turns into the support we need to keep the arts scene thriving.
"It's going to be fascinating to see who's still here in five years' time and whether Digbeth still feels like an interesting place to be."