Explore the incredible cars, bikes, planes, train and tram built in and used around Birmingham.

Located on level 0.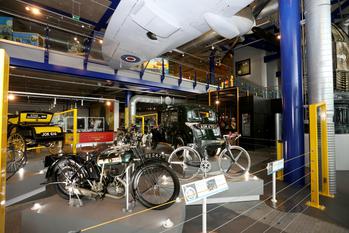 Birmingham has always been a city in motion, but what made it such a major hub of transport during the industrial revolution?
In this gallery you can find out first hand by seeing some of the remarkable machines that made it all happen. Unravel the remarkable story of Birmingham's transport revolution. Learn about the complex web of canals, roads and railway networks that connected Birmingham to the rest of Britain, and hear some of the stories from the people who made, used and ran them.
See the iconic Spitfire and Hurricane aircraft hanging above your head. Over 11,000 Spitfires were built in Birmingham during World War Two. Stand behind the controls of the massive City of Birmingham steam locomotive and find out how it worked. See the amazing Railton Land Speed Record car, and watch a film of it travelling at 394 miles per hour (634 km per hour) on its final record-breaking run.
---
You might also like...