The Science Garden is an outdoor discovery space packed with surprises and fun activities for the whole family.
Located outside on level 0.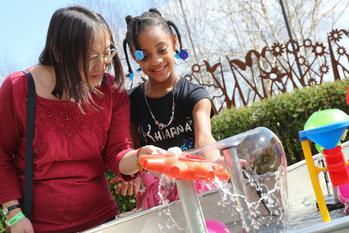 The Science Garden offers an adventurous and entertaining day out, bringing themes of engineering, mechanics and transportation to life through over 30 hands-on exhibits.
Visitors of all ages can get 'bodies on' with exciting and inventive exhibits including an eight metre high clanging 'Terminus' machine and a giant human-sized hamster wheel that has a top speed of 30 revolutions per minute.
Fun zones in the Science Garden include:
Energise - Harness renewable energy to power a mechanical theatre - which turbine or solar panel will you choose?
Mechanise - Use a host of intriguing machines to feed the 8m high 'Terminus' machine - can you get enough for an explosion of dancing balls and whistles?
Mobilise - How does it feel riding on a wagon with square wheels on a bumpy road? Find out!
In addition to these interactive exhibits there is an outdoor classroom – Garden Arena, where shows and workshops for schools can take place.
The Science Garden is included in the Thinktank admission price, or it is free every day from 3pm, with varying closing times in autumn/winter due to light levels. The earliest the garden will close during the winter period is 4pm.

Kids' Park
Also, look out for the Kids' Park. Little ones can try our hands-on exhibits and discover the science behind touch, sound and movement in this small FREE park located opposite the Science Garden. Activities include:
Whisper dishes - send a message across the park with a mere whisper!
Musical Games - compose a masterpiece on our giant chimes.
The Science Garden and Kids' Park are located on Level 0, directly in front of Thinktank.
---
You might also like...