Come face to face with a dinosaur and other skeletons from the past!
Located on Level 2.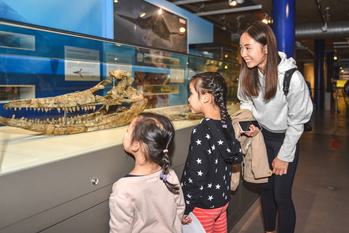 In these galleries you will explore the diversity of life on Earth. We've picked out some of our highlights: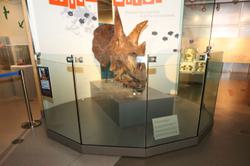 Triceratops Skull

Triceratops would have lived in the Late Cretaceous Period 68 to 66 million years ago.
Our real skull of a Triceratops was found in the USA in 1908 and was brought to Birmingham in 1955. Triceratops was a plant eating dinosaur and its name means 'three-horned face'. The skull is a fossil, which means that the bones have now been replaced by rock - a process which takes millions of years.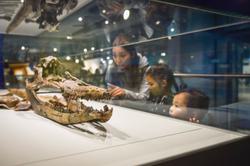 Ichthyosaur

Discover the Ichthyosaur skeleton, an almost 200-million-year-old giant sea monster from the time of the dinosaurs.
Ichthyosaurs were marine predators that looked a lot like dolphins, but they were reptiles.
Our skeleton was the focus of a two-year conservation and research project which found that it might be a new species.
Find out about the types of creatures that have adapted to life in the sea.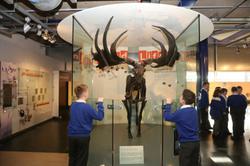 Fossils, skeletons and wild life
See skeletons of other fantastic creatures including a Jurassic Crocodile and a Giant Deer, one of the largest deer ever to live on earth.
Plus see a variety of other animals and wild life that is found on our amazing earth.
---
You might also like...