To make the most of your visit, we have provided comprehensive information for teachers bringing pupils to Thinktank.
On this page you will find information about our sessions and prices, as well as useful pre-visit and on the day information.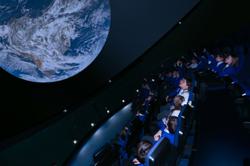 About Thinktank

Thinktank is an award-winning science museum with over 200 science and technology hands-on displays, plus a digital Planetarium and outdoor Science Garden. At Thinktank we believe that learning and fun go hand in hand. Let your pupils experience a world of discovery all under one roof.
About the Sessions
At Thinktank we offer a range of STEM subjects from Early Years through to Key Stage 5. The type of sessions range from hand-on workshops, exciting and explosive theatre shows to immersive planetarium sessions. Sessions last for between 45minutes - 1 hour and are available Monday to Friday.

Costs
| Description | Price (per student) |
| --- | --- |
| Entry into Thinktank | £5 |
| Workshop or show | £5.50 +VAT (plus entry fee) |
| PCR Discovery Days | £17 +VAT (plus entry fee) |
Self Guided Visits
Self guided visits are available at Thinktank. Advanced booking is required.
The Medicine Matters Gallery has now closed as we have a new exciting new temporary exhibition space which opens in summer 2023.
Home Educators
We offer a warm welcome to Home Educating groups. All of our taught sessions are available for home education groups. We can adapt the content of the taught sessions to fit with mixed age groups, abilities and needs. A minimum charge may apply.
---
Pre-Visit Information

How to Contact Us
All visits require advanced booking - this includes teacher previews and taught sessions.
For enquiries or to make a booking contact the Education Bookings Team on 0121 348 8001 or email EducationBookings@BirminghamMuseums.org.uk
Address
Thinktank
Millennium Point
Curzon Street
Birmingham
B4 7XG
Risk Assessment
Download our hazard information sheet (PDF) to create your own risk assessment for your visit and our facilitated session risk assessment (PDF) for your trip to Thinktank.
Teacher Previews
If you are a first time visitor to it is recommended that a member of your teaching staff attends a pre-visit. Download the pre-visit registration form (PDF) to arrange your pre-visit. Proof of teacher status must be shown at the ticket desk on entry (e.g. General Teaching Council membership, union membership card or signed headed school paper). Please contact the booking team to arrange this.
Disabled Access
See Accessibility Information for full details.
Packed Lunches
Packed lunches can now be pre-ordered and will be ready for you on arrival in the picnic area. To pre-order packed lunches download the packed lunch order form (PDF).
Goody Bags
Goody bags are available to pre-order and can either be paid for on the day or via invoice to your school. We can prepare your own individual goody bags. For more details and to pre-order your bags download the goody bag order form and send this to EducationBookings@BirminghamMuseums.org.uk

Pupil / Teacher Ratio
For Foundation and KS1 groups a minimum of 1 adult to every 6 children is required.
For KS2 and over a minimum of 1 adult for every 10 children is required.
A failure to meet these ratios may result in your session being cancelled upon arrival.
Educational Social Story
Our Education Groups Social Story aims to prepare individuals with autism for their educational visit by letting them know what to expect.
---
On the Day Information
Arrival
School groups should arrive 15 minutes before the start of their first taught session. This will allow for pupils to disembark from the coach, drop off lunch bags and visit the toilets.
Late arrival may result in your taught sessions being shortened. Sessions cannot be carried over due to other groups and activities around the museum.
View our Thinktank map to assist you with your visit.
Coach Drop Off and Parking
There is no on-site mini bus or coach parking available. The coach drop off point is located on Cardigan Street (B4 7BD) which is a short walking distance to Thinktank's group entrance. If you travel by car you will be expected to pay the car parking charges for the Birmingham City Council multi-storey car park.
Schools Entrance
The schools entrance is situated on level 2.
Classrooms
There are four dedicated classroom spaces: two fully equipped for general use; one for KS1 use; and one science laboratory.
Theatre
Some science shows take place in the Theatre. This is a large room with seating for 180 people. Raked, fold down seats are accessed by steps down from the Theatre entrance on Level 3. There is an accessible viewing platform in the Theatre, at the top. For some shows it may be possible for visitors with accessibility requirements to sit on the 'stage' at the bottom of the Theatre, where health and safety considerations allow. Please look at the Education Groups Social Story for more details and a photograph of the Theatre.
Lunch Area
There is a dedicated lunch area situated on level 0. Please pre-book when making your booking.
Cloakroom
The cloakroom with trolleys is situated on Level 2. Items are left at owners' risk.
Toilets
School toilets and disabled toilets are on all levels.
Museum Shop
The gift shop is located on Level 2. Pupils are welcome to visit the shop as part of their day. We ask that a maximum of 60 pupils visit the shop at one time.
Pupil Behaviour
It is the responsibility of the class teachers and accompanying adults to control the behaviour of pupils
Pupils are expected to show respect, listen to the museum staff and follow instructions
Adults must stay with the pupils at all times
Pupils should not be led away from the Learning Officer unless instructed to do so and no one is to exit the building unless escorted by a member of staff
No running in the museum
No eating or drinking on the galleries
Schools are discouraged from using the lifts
No climbing on the exhibits
Photography
Photography is permitted. If you are taking photographs in your taught session please let the Learning and Engagement Officer know.
---
---