Our Changing Planet explores how humans have affected the Earth and our climate.
Located on level 2.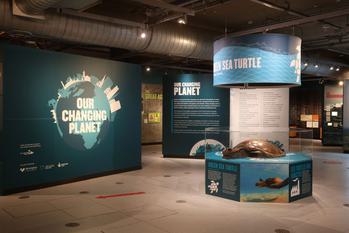 Our Changing Planet is a fascinating gallery at Thinktank.
At a time when climate change is one of the greatest challenges facing the planet, this exciting gallery looks at how humans have transformed the world and how these changes are affecting wildlife and the environment across the globe.

Our Changing Planet explores the long history of humanity's influence on the planet, a time referred to by many experts as the Anthropocene - the word comes from the Greek words for human ('anthropo') and new ('cene').
The gallery contains two areas each focussing on a different aspect of the Anthropocene, plus a new section looks at how we can help protect our planet.
The gallery is located on Level 2.
When did the Anthropocene start?
In this gallery visitors can look at the evidence of the different starting points of when humans became a major influence on the natural world. It starts around 10,000 years ago with pre-history and takes visitors through the rapid industrialisation of the 19th and 20th centuries.
See over 150 incredible items on display, with highlights including Britain's first working model of a steam carriage made by William Murdoch and samples of the first semi-synthetic plastic created by Alexander Parkes in Birmingham.
Living in the Anthropocene
Find out how the unprecedented human transformation has impacted plants and animals worldwide too. Discover how wildlife in the West Midlands is already being affected by climate change and then looking at major ecosystems around the world such as coral reefs and forests.
Our Changing Planet is perfect for older children and adults to learn and think about how human inventions and behaviour have impacted the world around us.

How can we all help protect our planet?
This part of the gallery looks at some solutions to the climate and ecological problems caused by the Anthropocene.
Discover the work that researchers from the University of Birmingham are doing to help in areas such as climate change and health, food security, plastic pollution and Rail Decarbonisation.
See some of the challenges that we face in the areas of clean air, biodiversity, and sustainable living and what we can do about them.
Find out about green events and activities and see what changes local people have made in their lives to help protect our planet. You can also see Birmingham Museums Trust's own commitment to acting in a more sustainability pledge.
---
You might also like...