About Weoley Castle
Weoley Castle is one of Birmingham's hidden gems and a scheduled ancient monument of national importance. The ruins of this 13th-century fortified manor house provide an idyllic backdrop to any event.
The Event Space is an open plan multi-functional space with large sliding doors giving views of the 700-year-old remains of Weoley Castle. With a large outdoor area, guests can relax during session breaks in green and tranquil surroundings. We can offer exclusive use of the site, creating an ideal setting for peaceful away days and meetings.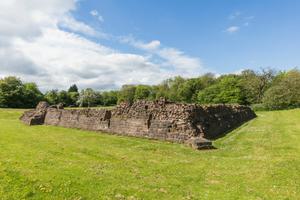 Conferences and Corporate Events
What we Offer
The Event Space is deal for meetings and away days. Maximum capacity of 30 people.
Large outdoors space.
Off road parking available on request.
Light refreshments (catering contacts available on request).
Guided tours can be arranged.
Digital Projector and screen.
Event Space, Capacity and Hire Charges
Event Space
Capacity
Max 30 people
Ideal for meetings and with opportunity to enjoy activities at
the Castle as part of an Away Day
Hire Charges
Half day: £250 + VAT
Full day: £450 + VAT
Parties and Special Events
The visitor centre is flexible and great for children's birthday parties. With plenty of outdoors space it's also a great venue for summer celebrations of all varieties. The views of the castle make for a fascinating backdrop and lend themselves perfectly to themed events, including medieval inspired wedding parties or blessings.
What we Offer
Event Space with a maximum capacity of 30 people
Large outdoors space
Off road parking available on request
Access to the castle ruins by guided tour
We can provide catering or are happy for you to bring your own*
Events Space, Capacity and Hire Charges
Event Space
Capacity
Max 40 people. Ideal for children's parties and other special events.
Hire Charges
Half day: £150
Full day: £300
Children's parties: prices on request
Terms and Conditions
Hire charges are for room only and do not include staffing, catering or set up charges.
Prices quoted are for hires between 9.30am–4.30pm. Out of hours hires are also available, please ask for further information.
We are able to offer Away Day activities in addition to our room hire opportunities; talk to
us about archery, guided tours and corporate volunteering.
---