Announcing Birmingham Museums Trust's resident artist for the UK-wide 20/20 project
Stories
7 Jun 2023
News Story
Birmingham Museums Trust is one of 20 UK public collections selected to work with a resident emerging artist as part of a major UK-wide commissioning programme that directly invests in the careers of a new generation of ethnically diverse artists.
20/20 is an ambitious three-year project launched in November 2021 by University of the Arts London (UAL) Decolonising Arts Institute, working in partnership with UK public collections, museums and galleries, and supported by funding from Freelands Foundation, Arts Council England's National Lottery Project Grants Programme and UAL.
The project was conceived in response to urgent calls for action within arts and culture in the wake of Black Lives Matter, as social inequities and racial injustices continued to be amplified by the COVID-19 pandemic.
Multi-disciplinary artist Christopher Samuel will undertake a 15-month paid residency with Birmingham Museums which will lead to the production of a commissioned artwork that will enter the city's permanent collection.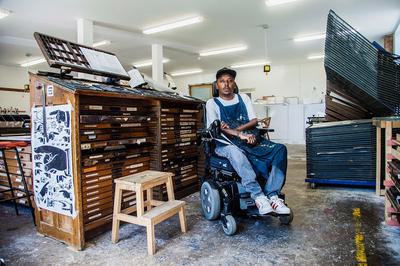 Christopher's work is rooted in identity and disability politics, often echoing the many facets of his own lived experience.
Seeking to interrogate his personal understanding of identity as a disabled person impacted by inequality and marginalisation, Christopher responds with urgency, humour, and poetic subversiveness within his work. This approach makes his work accessible to a wider audience, allowing others to identify and relate to a wider spectrum of human experience.
Christopher's previous projects include 'The Archive of An Unseen', which features fragments of the artist's life story, growing up black, disabled and working class in the 1980s, in an interactive artwork. Layers of audio, video and photography form what he describes as an "expanded documentary" of his life. These are presented in a custom-built re-creation of a Microform reader – a viewing instrument usually operated by specialists – echoing the medical scrutiny he experienced as a child.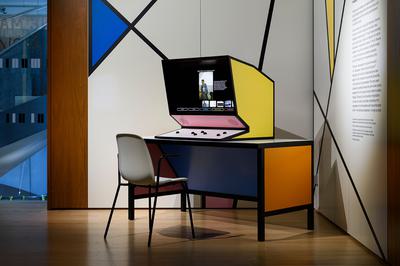 The first cohort of eight 20/20 artists was announced in September 2021, and their residencies are currently underway, pairing a total of 20 artists with 20 UK collections and resulting in 20 new permanent acquisitions over the life of the project.
Among the museums and galleries across the country to receive a 20/20 project residency are Coventry's Herbert Art Gallery and Museum, Wolverhampton Art Gallery, Bradford Art Gallery, Manchester Art Gallery and Leeds Art Gallery.
Birmingham Museums will receive a portfolio of 20/20 prints, including one from each of the 20 artists across the programme.
Sara Wajid, Co-Director of Birmingham Museums Trust, comments:
"Christopher's work is thrilling, provocative and fresh. It's an honour for us to host his residency at Birmingham Museums at this pivotal moment in his artistic career. Being selected to be part of this national project to address racial inequality in our artistic heritage and collections is an important recognition of our commitment to social justice and artistic expression."
Professor susan pui san lok, 20/20 Project Director and Director of the Decolonising Arts Institute, said:
"We are thrilled to welcome the second cohort of artists to 20/20. This is an exciting phase in the 20/20 project – our first eight residencies are already in full swing, and it's been wonderful to support the deepening development of ideas and relationships. We are looking forward to starting journeys with our second cohort of artists, as they delve into collections and help to generate richer understandings of the histories and contributions of overlooked objects and artists in their midst."