The Wilkinson Tracings
Stories
30 Mar 2023
News Story
One of the latest additions to Birmingham Museum Trust's online images website is a collection of designs for furniture, ornament and interiors known as the Wilkinson Tracings. This group of over 200 drawings (most of which are on tracing paper) and prints was acquired by the museum in 1974 as a bound volume titled 'Tracings by Thomas Wilkinson from the designs of the late Mr George Bullock 1820'.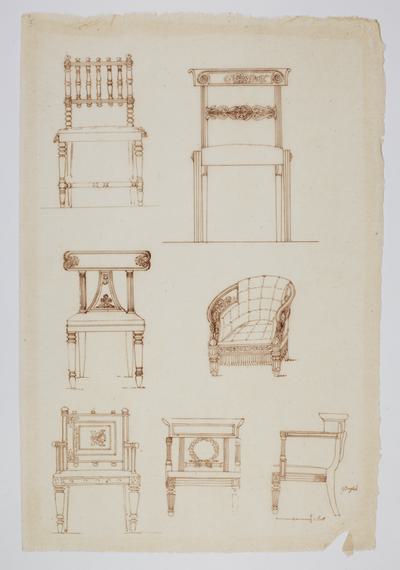 This collection is one of the main sources for the output of the regency furniture designer and sculptor George Bullock. Bullock was born in the 1770s or 80s and spent his early years in Birmingham. His mother was a wax modeller and he initially worked alongside her, before moving to Liverpool around 1804 and establishing himself as a cabinet maker.

Nowadays Bullock is not very well known, but he was one of the most exciting and innovative designers of the early 19th century. One contemporary of his wrote that Bullock had 'carried taste, in design of furniture, to a higher pitch than it was ever carried before in this country'. Bullock was particularly renowned for his use of flat decoration and the Wilkinson Tracings contain numerous designs for inlaid ornament on furniture, which could have been produced in either wood or metal. Sometimes it's possible to match a design to a finished object: a design for a daffodil pattern in the Wilkinson Tracings appears on a sofa table by Bullock now on display in the Green Library at Aston Hall. Bullock often sought inspiration from native plants and flowers in his designs, and he also worked a lot with British woods and minerals, which was not very common in this period.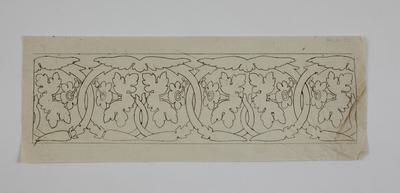 Many of Bullock's designs are in a neoclassical style, using forms and motifs taken from ancient Greece. But the Wilkinson Tracings show that he also participated in the Gothic Revival, a movement of artists and designers looking back to the medieval period for inspiration. Bullock was involved in the furnishing of Abbotsford, the home of the Scottish novelist Sir Walter Scott, who was an early adopter of the Gothic style, and one of the largest drawings in the Tracings is of the armory at Abbotsford.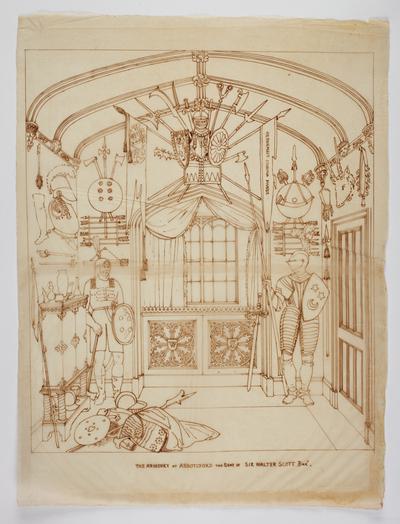 Bullock's clientele also included the families of the Birmingham manufacturers and industrialists Matthew Boulton and James Watt. Bullock furnished Thornhill, a house in Handsworth where James Watt Junior lived from 1808 to 1818, and he provided furniture and upholstery for the main reception rooms and bedrooms at Tew Park, the Oxfordshire home of Matthew Robinson Boulton. Several pieces of furniture which Bullock designed for Tew Park are now on display in the Red Chamber at Aston Hall.

The Wilkinson Tracings even contain a few designs for furniture for Aston Hall. These were produced for James Watt Junior, who moved into Aston Hall in 1819. However they were designed by Richard Bridgens, a former associate of Bullock's, rather than by George Bullock himself, who had died in April 1818. The existence of designs amongst the Wilkinson Tracings by other people and dated after Bullock's death raises questions about exactly when this collection was compiled and who some of the designs should be attributed to. We also don't know who Thomas Wilkinson was, and how he had access to these designs or came to make copies of them.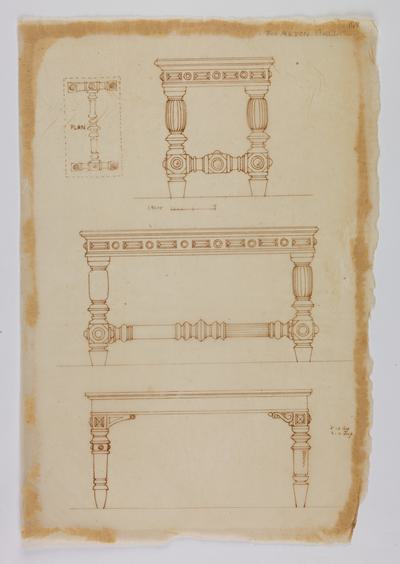 While this collection may have rather intriguing origins, it certainly provides a wealth of information about 19th-century furniture and interiors. We hope that by making the Wilkinson Tracings available open access, more people will be able to study and enjoy this wonderful set of designs.

You can view the Wilkinson Tracings on our Digital Image website.
To learn more about George Bullock and see some examples of his furniture, why not visit Aston Hall?
Rebecca Unsworth, Research Assistant (Decorative Art).