Looking for a fun and unique birthday party?
At Thinktank we have 2 party packages to choose from:
Thinktank Party
MiniBrum Party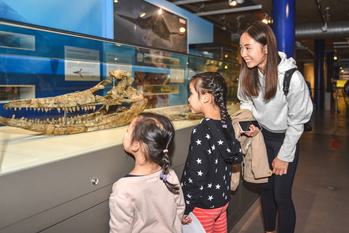 Thinktank Party

We provide access to Thinktank, including our fabulous outdoor Science Garden and under 8s gallery MiniBrum, the catering and the party bags! Plus you can book, as an extra, a trip to the UKs only 4K Planetarium.
Our team don't supervise the party, that's down to parents or guardians but we will be on hand to welcome you to the museum and support you during your visit.
Our Thinktank party package is suitable for children aged 3+ and we welcome parties with a minimum of 10 children.
Thinktank Party includes:
Admission to Thinktank, including the Science Garden and MiniBrum (non exclusive use)
Lunch on a reserved table decked out for a birthday party with linen table cloths. Each lunch bag includes sandwich, yoghurt, piece of fresh fruit, cake slice, crisps and water.
A party bag, containing four Thinktank themed items.
Prices
£14.10 per child (Members £9.99) - including VAT.
One adult free for every ten children. Additional adults are £14 per person. (Admission only).
Optional extras:
Planetarium Ticket - £3.50 per person for non-exclusive hire. Exclusive hire is: £252 (inclusive of VAT).
---
MiniBrum Party
Celebrate your child's birthday party with us at MiniBrum - our interactive gallery for under 8s.
MiniBrum is Thinktank's very own mini city and there's plenty for the children to enjoy. It has its very own transport zone, shops, homes, park and construction site!
Your party will be greeted at Thinktank's Ticket Desk on Level 2 and you'll then be taken to the MiniBrum gallery where the children will enjoy playtime in this exciting mini city.
After playing in MiniBrum, you have exclusive use of a party room where the party meal will be served. Party meals include a sandwich, a penguin biscuit, a portion of fruit and a packet of crisps. You will also have unlimited squash. You are welcome to bring party games to keep the children entertained in the party room. Please bring your own cake (candles are not allowed, we can provide an electric candle).
MiniBrum parties are suitable for children between the ages of three and eight. Parties are available on Wednesdays, Thursdays and Fridays at 2.15pm, or Saturdays and Sundays at 10.15am or 2.15pm. Each party slot lasts for two hours. Minimum of 10 children, the maximum party size is 40 (including adults and children as this is the maximum capacity of The Den).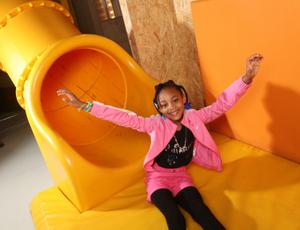 MiniBrum Party includes:
Birthday host to welcome your party and keep an eye on timings
Play in MiniBrum (non exclusive use for 1 hour 20 minutes)
Party meal and exclusive use of a party room (for 40 minutes)
Unlimited squash
Duration two hours
For more information visit MiniBrum Party: Frequently Asked Questions.

Prices
£13.10 per child. Additional children that are not in the party are £10.25. We allow free entry for one adult per each child booked. Additional adults are charged £6.00 each.
Optional extras: Party bag fillers are £4.45 per child and consist of four Thinktank themed items. (Paper bags can be provided, please let us know at the time of booking if they are required).
---
---
Birthday Party Invites
Download and print our free birthday party invites for either a Thinktank or MiniBrum party. Choose from a PDF or Word version: